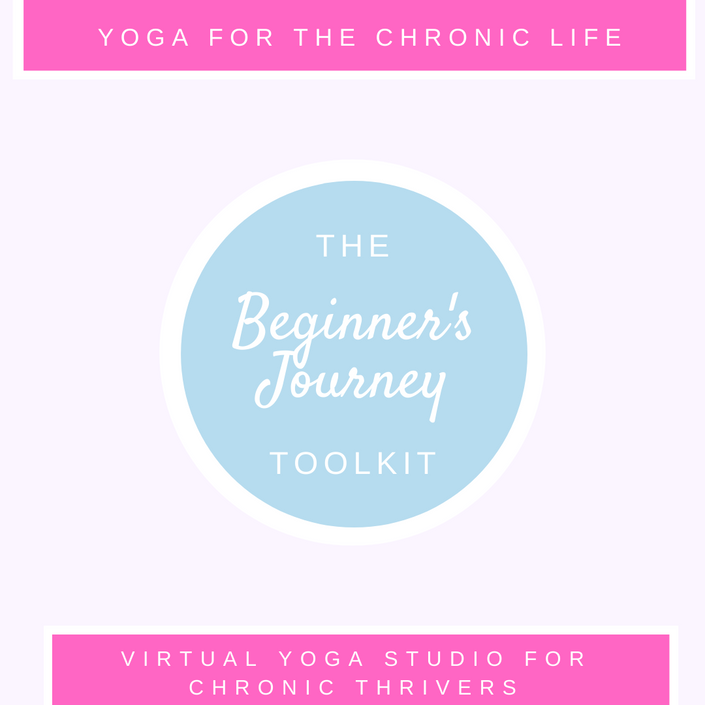 10 day Beginners Journey Toolkit
10 days for you to begin your yoga for fibromyalgia journey easily
You are living with the symptoms of fibromyalgia: chronic pain, chronic fatigue, insomnia, anxiety and more
You would like to:
Rest and relax
Decrease stress
Decrease anxiety and depression
Manage chronic pain and fatigue
Improve insomnia
Improve general health
Gain tools you can use yourself, anywhere, anytime
Mindful movement, breathing and meditation are three amazing tools for us to practically manage our symptoms day to day.

In this practical course we take a beginner's journey through using the tools of yoga for fibromyalgia.
Just 10-20 minutes a day, for 10 days!
We will take 10 different yoga practices and see what resonates the best for us.
All ready for you to practice when and where you need. Forever.
All of my resources are designed to become a permanent part of your daily toolkit.
Using our bed, the chair, classes for flares and when we feel more strenuous, breathing practices and meditation practices. All clearly explained and designed especially for you.
"I'm enjoying the idea that I can learn how to adapt yoga to fit in with my life of pain and fatigue. This is definitely gonna be a permanent part of my tool kit.
" - Toya
Yoga is a key part of my whole of life wellness plan.

This is not a traditional "beginners" course. It is a course for you - you with fibromyalgia. To help you create a toolkit to help you manage pain and fatigue and sleep. I am opening my personal toolkit to show you how to make yours!
Can you imagine feeling pain in a certain area and knowing a pose that can help you manage it? Feeling overwhelming fatigue and using a guided meditation to help you achieve some deep rest.
Have tools in your (metaphorical) back pocket to help you as and when you need? This has been my secret for the past few years and now I can share it with you!
Hope + self-efficacy (knowing you can help yourself and not wait for someone else) = better outcomes for us.
This is what yoga offers. Call it what you like - stretching + breathing + meditation - if you prefer.
With no spiritual "woo woo" (although I'm happy to share the philosophy behind the eight parts of yoga), no pretezeling, no 90 minute classes and no use of the "c word". (The "c word" is cure.) We don't use that word around here. We are looking for tools to help us manage our wellbeing. And yoga offers these.
Join us for this 10 day program which has been designed by a fellow fighter to be as accessible as possible.
What is my investment?
This course is available for just $49 - you will:
Breathe well

Practice poses to gently stretch and strengthen and that serve as standalone tools to help us with specific areas of tension

Assemble your yoga toolkit

Learn a variety of classes so that you can use what you need when you come to your practice - bed, chair, mat, breathing, meditation

Start to balance your central nervous system with a specially designed style of yoga (restorative yoga was created for those who were unwell or injured)

Know how and why these tools help so that you can continually draw on them whenever you need them

Feel calmer, confident of your ability to help yourself fast and supported - you won't be alone friend
Specifically you get:
10 days of specially designed yoga practices

Gentle classes to get you moving mindfully (chair, bed and standing)
Relaxation/Meditation
Breathing practices

Accessed when and where you need
More importantly, you will learn to move mindfully - a vital skill for managing pain and fatigue.
In this program you will gain tools that you can practice anywhere, anytime, forever. Stream them from your phone, tablet or computer.

The value is more than $100. And then you have continued access for as long as the course exists!
How much have you spent previously on one-off classes, massages, or other physical appointments, that, while nice, the benefits ultimately wear off? You have to wait to see someone else to do something for you.
How much have you spent this year alone on treatments that might help?
How much time and life have you wasted with side effects from treatments that don't work?
What would it be worth to you if you could sleep even a little better?
If you could enjoy your movement?
To experience true relaxation?
To feel even a little less pain?
Priceless? Me too!
BONUS
The talk How to Save Hundreds of Dollars on Physical Treatments - how you can use the tools of yoga to reduce your physical treatment bills.
"I love yoga with Melissa Reynolds it has helped me feel more relaxed, less cramping, less pain." - Danny from Health-Hats.com
Your Instructor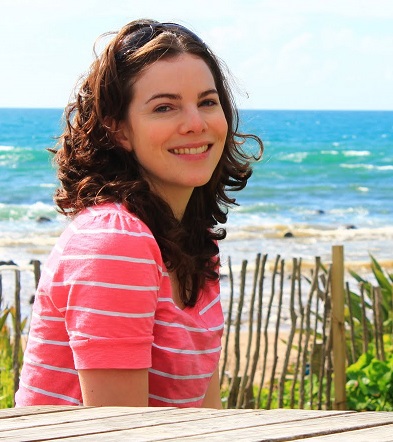 Melissa Reynolds is a mama of four beautiful boys. She is also a blogging, YouTubing, accessible yoga creating, chronic illness thriver.
For nearly a decade she has shared her journey to better wellness despite chronic pain, fatigue and insomnia on the blog www.melissavsfibromyalgia.com. In addition to over 300 blog posts and 200 YouTube videos, she has written two books, a workbook and several courses.
It is her mission to share yoga, pain and fatigue management tools with those who need it, so they don't have to spend as long as she did alone with no help.
Course Curriculum
Welcome!
Available in days
days after you enroll
Day One
Available in days
days after you enroll
Day Two
Available in days
days after you enroll
Frequently Asked Questions
When does the course start and finish?
The course starts now and never ends! It is a completely self-paced online course - you decide when you start and when you finish. You may also like to ask me about how to use this course in your own individual program, www.melissavsfibromyalgia.com/about/work-with-me to request your complimentary chat.
How long do I have access to the course?
How does lifetime access sound? After enrolling, you have unlimited access to this course for as long as you like - across any and all devices you own.
What if I am unhappy with the course?
We would never want you to be unhappy! If you are unsatisfied with your purchase, and have genuinely given it a go, contact us in the first 30 days and we will give you a full refund.
How can I chat to Melissa?
What is a coach? Are they a qualified health professional?
Coaching a partnership between coach and client where the coach supports, encourages and provides accountability while the client works toward their goals - in this case improving chronic pain, fatigue, insomnia, anxiety and overwhelm. Where the coach has special knowledge, as I do with the "chronics" and mindfulness through lived experience and research, they may provide more direction. But the client is ALWAYS in charge. Coaching is NOT therapy. I am not a qualified health professional. My aim is to empower you to take control of your journey. If you need help with mental health issues or counselling please contact a local agency.
Does Melissa use the "c" word?
No. I never use the word cure. There is no current replicable cure for fibromyalgia. I offer a way to help you take control and improve your quality of life despite your symptoms. They may improve, as mine have, but I still live with chronic pain, fatigue and insomnia every single day, but the level I experience them has decreased. I genuinely utilise mindfulness and meditation every day to help me cope and find joy despite difficult symptoms.
Do I need any special resources?
Nope! Just you, your phone/tablet/computer and maybe a heat pack for the meditations! The restorative classes call for household objects like pillows/bolsters/cushions. You may like to invest in a yoga mat. This is designed especially for chronic pain and fatigue fighters, where, when and how you need.
Join us now for this special set of tools to help us manage chronic pain, fatigue, insomnia, anxiety, overwhelm and just plain live well.
If you would like the whole shebang: mindful movement, tools and support - everything I can offer you then you might like to join us in the studio
Yoga for the Chronic Life Virtual Studio
To get:
New classes added each month
The entire repository of classes

The Foundations of Yoga for Fibromyalgia course (released periodically - value $199)

The Beginner's Journey Toolkit (value $69)

The Bed Yoga Toolkit (value $39)

The Chair Yoga Toolkit (value $39)

The 10 Day Meditation Toolkit (value $20)

A focus on using tools for your individual toolkit (sleep, pain, rest etc.)
SUPPORT in your journey - this is a team that gets it with a teacher who has experienced this in her body and improved her quality of life dramatically
For less than $8 per week!
I know, it's crazy. Join us here.
What is the difference? Members of the studio have access to all of the resources for as long as they are a member. If you purchase the entire program as it is here, then you have lifetime access.