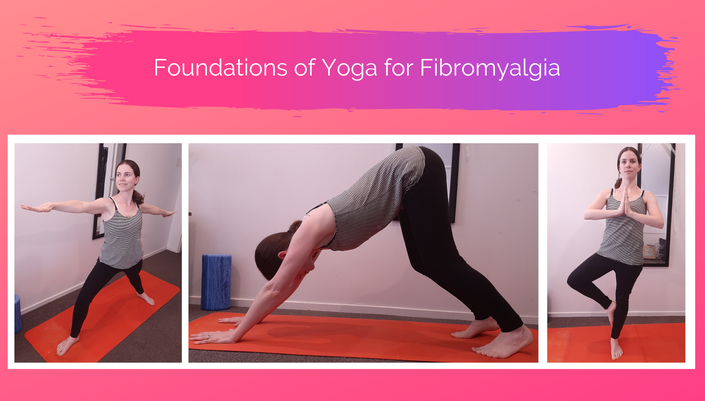 The Foundations of Yoga for Chronic Pain and Fatigue HYBRID
Your Complete Beginner's Guide to Starting Your Yoga Practice
Watch Promo
You can do yoga. And it offers a load of side benefits.
Yes, really!
---
Yes! Let's use the tools of yoga every single day to be as well as possible with chronic pain, fatigue, insomnia and the other symptoms we are managing. It has helped me so much that I am so excited to teach these tools to you.
Before we go any further though, we have got to address the elephant in the room. Yoga CANNOT cure you. But it is one part of a robust symptom management plan.
You have tried to "do" yoga and felt frustrated at how difficult it was
You used to do yoga but now you have to figure out how to adapt it to your body
You have seen those memes posing yoga as either a cure all or completely useless - and know that it could help if you could learn to do it
You want to experience the benefits of yoga (help with painsomnia, fatigue, anxiety - the things the research and all then internet articles tell you it can help with)
You need to do it gently, mindfully and where and when you can (ACCESSIBLE)
MOST IMPORTANTLY - you want to create a self-management plan to help reduce your symptoms




This is the program for you.
This is the Foundations of Yoga for Chronic Pain and Fatigue HYBRID program
Course + Mentorship + Exclusive Group
Our first call takes place on Sunday 10am morning New Zealand time 24th April (time zones for key areas are provided, you can also search time zone converters.)
This is a structured four week program that incorporates the tools of The Foundations of Yoga for Chronic Pain and Fatigue course but is more intensive. We will be deliberately working through four key tools yoga offers to create an awesome yoga symptom management toolkit.
"I'm enjoying the idea that I can learn how to adapt yoga to fit in with my life of pain and fatigue. This is definitely gonna be a permanent part of my tool kit." - Toya
Research is showing us that yoga can help us to reduce pain, increase energy, improve sleep, decrease anxiety, help us breath better and calm the central nervous system - let me teach you these tools so that you can utilize them wherever and whenever you need them.

My story could well be yours:
Studio classes are out of reach (the energy to get to a studio sucks up precious energy you need for the class)
The classes are too long
The ones I did make it to made me feel inadequate and out of place
I needed a lot of variation to fit those poses into my body
I need to be able to fit yoga into my schedule (around kids, health, work and life - not to mention pain and fatigue levels)
I wanted to use the tools yoga offered to improve my quality of life
After several years of floundering and doing my best, playing with one sequence that I knew worked for my body, using poses that felt good for certain purposes and sharing the benefits I was experiencing with my readers, I took the leap. I became a yoga teacher.
"I like being able to go at my own pace. Each video is very well explained so I am able to follow easily. I especially like that you included bedtime yoga." - Shelly

Yoga is a key part of my whole of life wellness plan.
This is not a traditional "beginners" course. It is a course for you - you with fibromyalgia. To help you create a toolkit to help you manage pain and fatigue and sleep. I am opening my personal toolkit to show you how to make yours!
Can you imagine feeling pain in a certain area and knowing a pose that can help you manage it? Feeling overwhelming fatigue and using a guided meditation to help you achieve some deep rest. Creating a mindful sleep routine that helps you get to sleep faster.
Have tools in your (metaphorical) back pocket to help you as and when you need? This has been my secret for the past few years and now I can share it with you!
Hope + self-efficacy (knowing you can help yourself and not wait for someone else) = better outcomes for us.
This is what yoga offers. Call it what you like - stretching + breathing + meditation - if you prefer.
All when, where and how works with your energy levels and other things.

• tablet, computer or phone
• with your toddler coloring next to you
• in your lounge, bedroom or hotel room
• at 7am, 11am or 6pm (you align the time with your energy levels)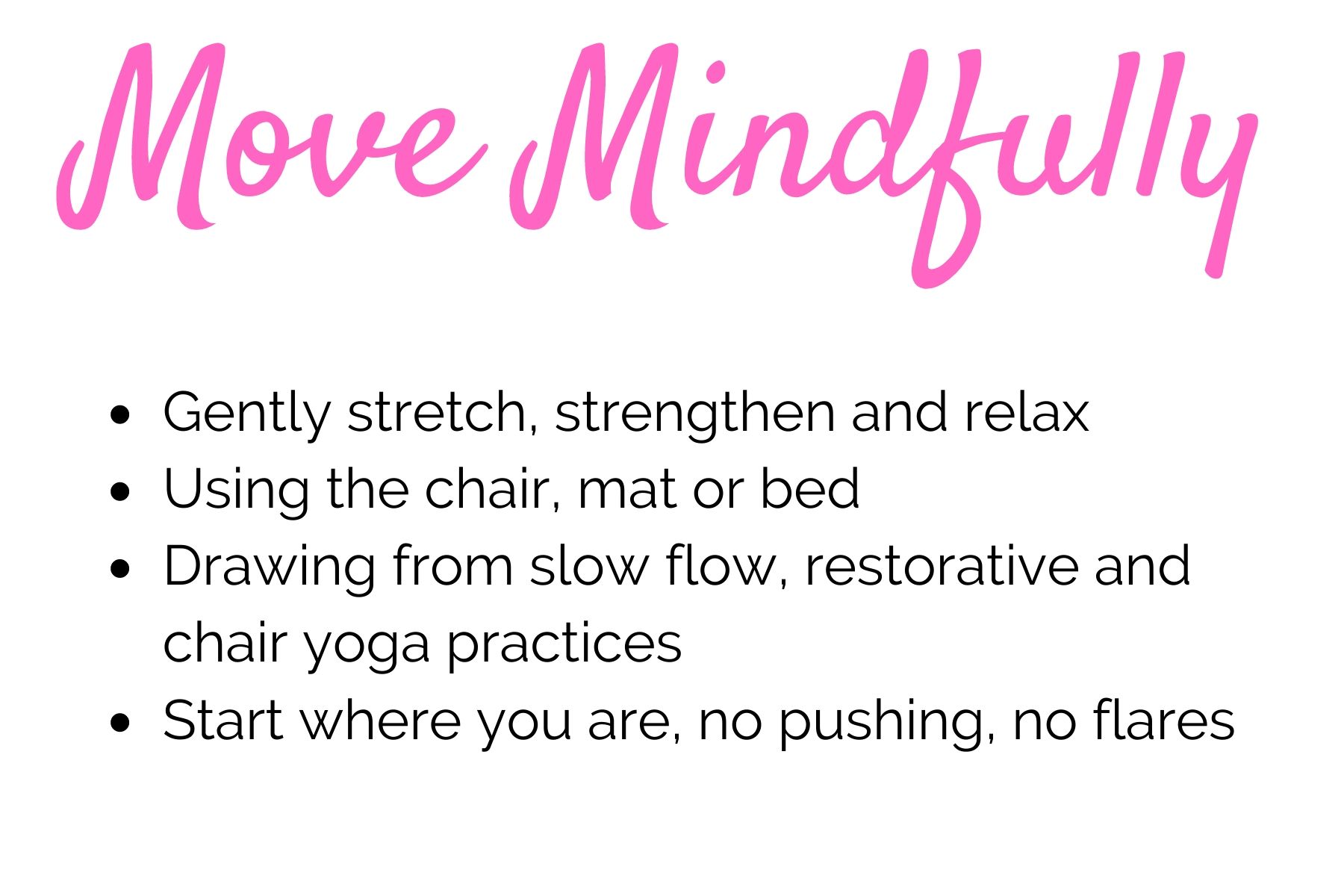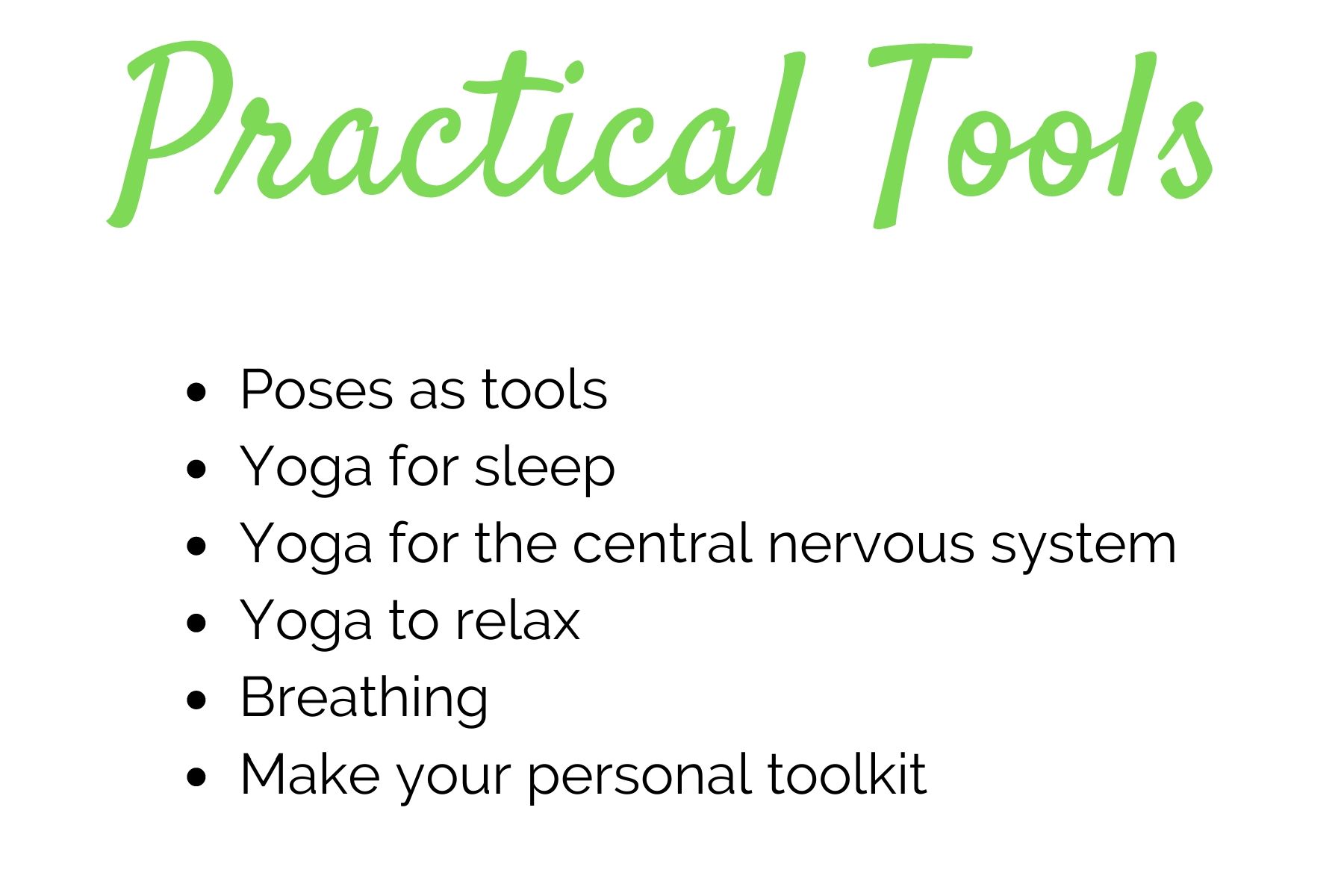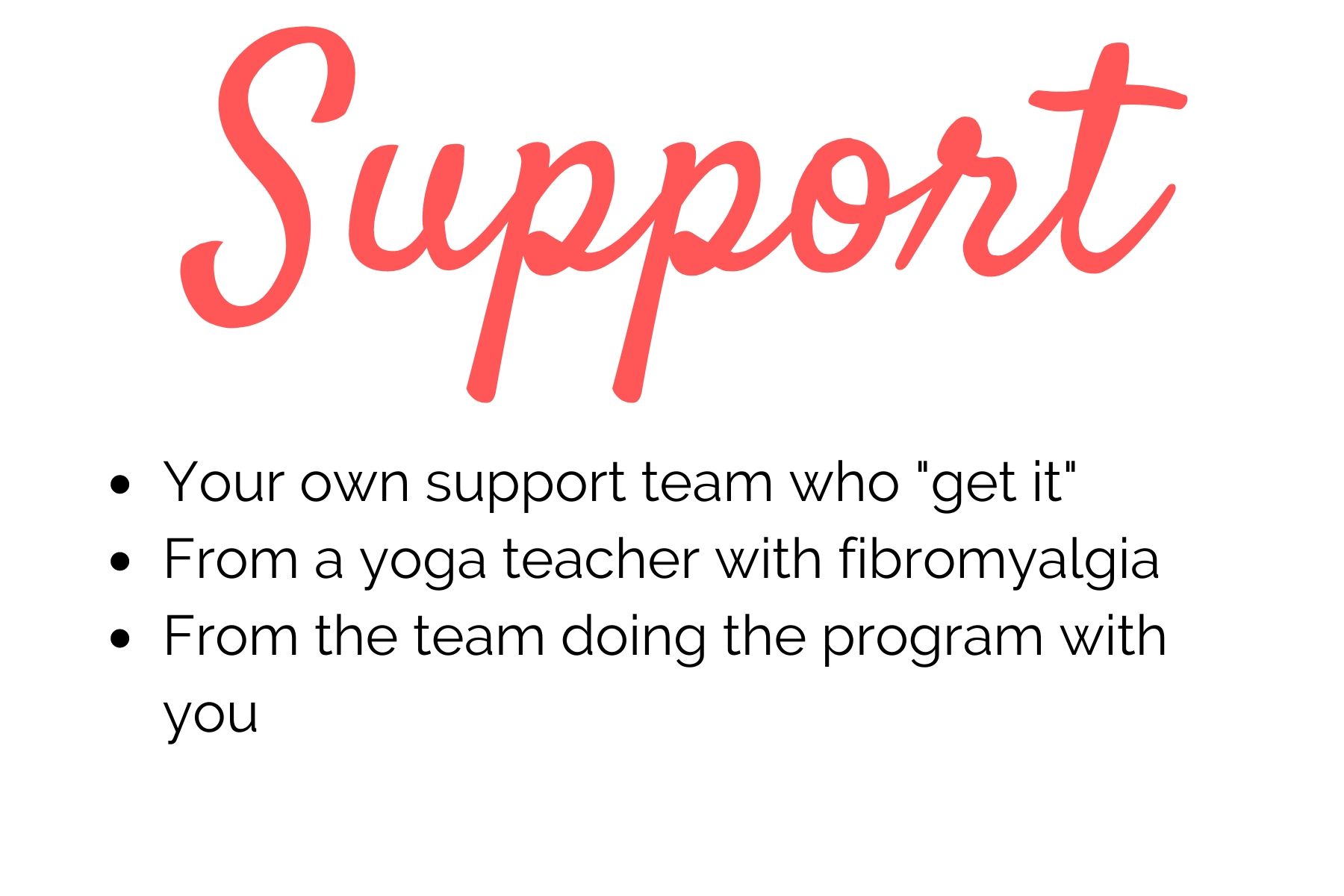 "I love yoga with Melissa Reynolds it has helped me feel more relaxed, less cramping, less pain." - Danny from Health-Hats.com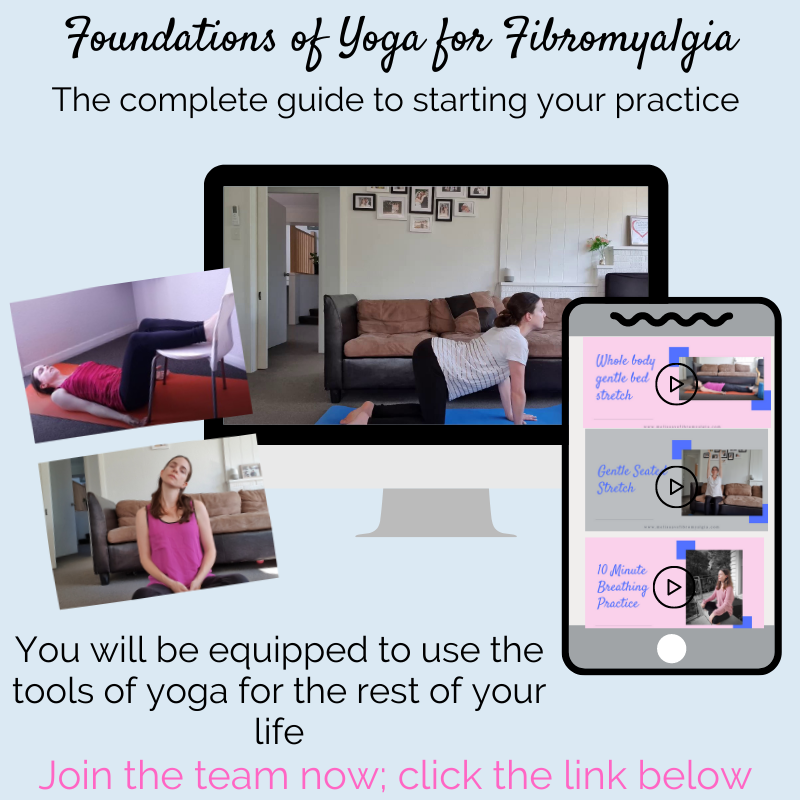 "For the first time I'm in a yoga class that I feel like I'm actually going to get it...I really can do this and I love how it feels." - Student of Foundations of Yoga for Chronic Pain and Fatigue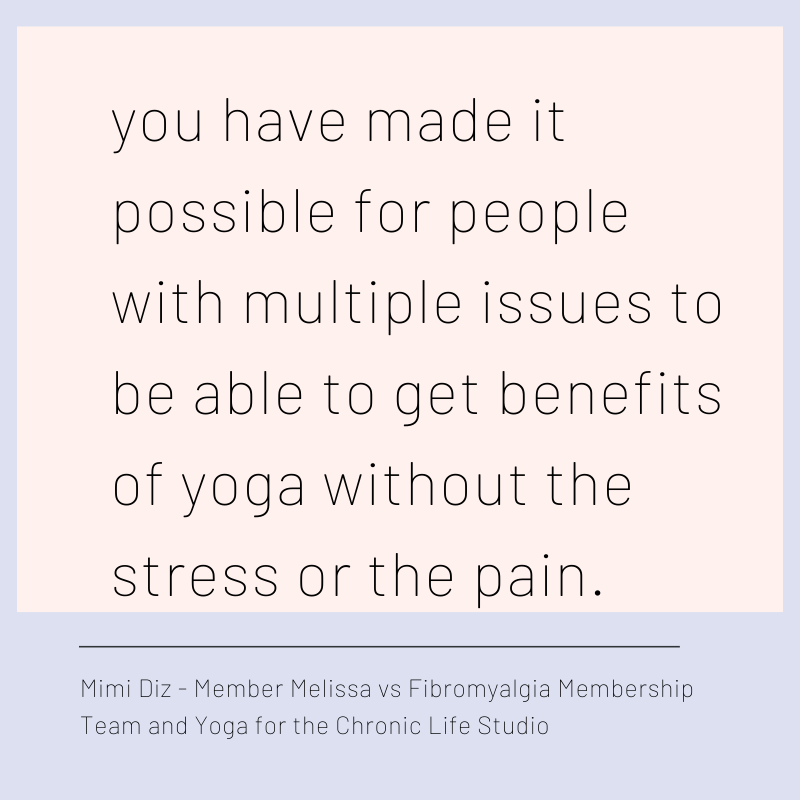 This is for you if:

you don't have the time or energy to travel to a studio and complete a yoga class
60-90 minute classes are not in your wheelhouse right now
your body doesn't speak pretzel (you may need modifications for some poses)
there are diagnosed, managed issues that you need to work around
you would like to learn to integrate yoga into your life, not the other way around
you want the benefit of the physicality yoga can offer without the philosophy
you are ready and willing to take practical steps to improve your quality of life

This is not for you if:
you have not been cleared to exercise by your doctor/medical team
you have no experience listening to your body and exercising safely (though, if you are willing to learn this is for you)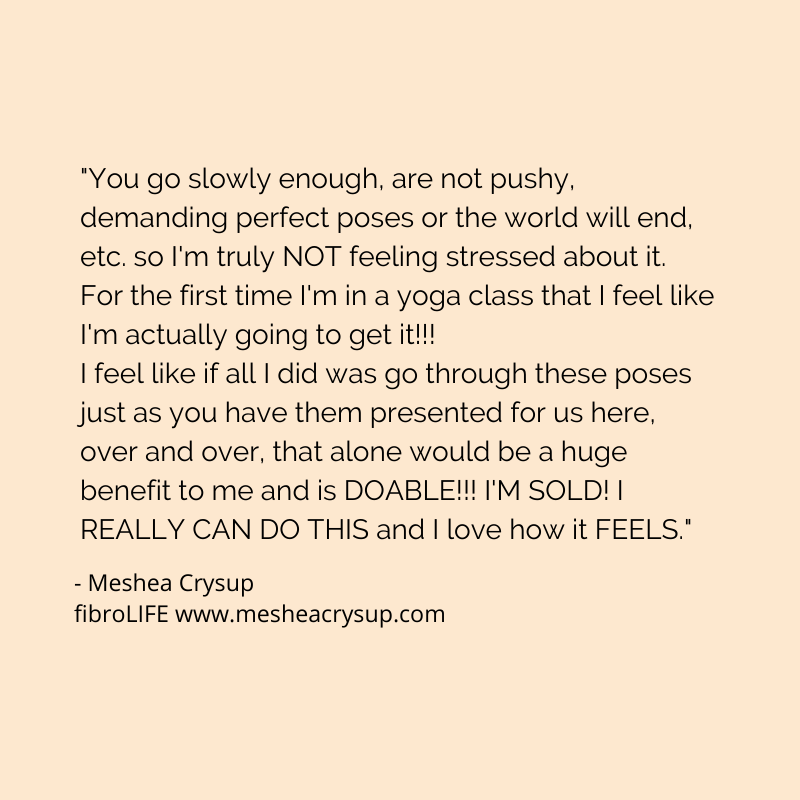 I am so into yoga for fibromyalgia because it has helped me...
I use the tools every single day. From mediation, to one off poses to full sequences. I still don't contort into odd shapes or do classes for longer than 20 minutes - yet I have built my strength, my flexibility and improved my quality of life. My central nervous system is much calmer, I sleep better, I experience less pain and fatigue, and my emotional health is much improved (knowing that I can achieve some rest or respite from my symptoms is huge). Do remember this is in the context of a whole of life plan - we need to work on the six key areas to fight fibromyalgia. Yoga offers many tools that help many areas but it is not the only thing I do.
More importantly, it has helped my students!
I am really excited to be able to share these tools with you.
---
"I am deeply thankful for all of your information and resources...I also appreciate your focus on being holistic and trying to treat the underlying cause of the condition, rather than solely the symptoms. You are an inspiration and I am so thankful to have found all of your resources." Maya
---
What people say about Melissa's work
See Meshea's video about how she's finding it here.

"I think it was exceptional. I am dealing with the idea that this will never go away. I think that is my biggest struggle. Other ailments or conditions I have had in the past there has been an operation or cure. It's a bit overwhelming on my flare days." - A fibro fighter
"I absolutely loved all the resources on pregnancy and breastfeeding. Thanks for your generosity in sharing all this info which can't be found anywhere else." - A fibro fighter
"I really love everything that you have for all of us suffering from this painful life we live." - A fibro fighter
"Love how practical these tips are and how they take into account how "life" comes into play with pacing." Lisa

"I really loved this. It is really well researched and honest. You also have a lovely calming voice." Amanda
"It was like a reset point where Melissa helped me to focus on the goals I have by breaking it down into smaller goals." - A fibro fighter
"I am deeply thankful for all of your information and resources...I also appreciate your focus on being holistic and trying to treat the underlying cause of the condition, rather than solely the symptoms. You are an inspiration and I am so thankful to have found all of your resources." Maya
"I had a great yoga session with Melissa recently. She kindly commented on my technique and was very encouraging. I learnt a lot and had fun doing it. She's a fantastic coach and I definitely recommend her. The one on one sessions are totally worth it!" Jessie
So what are you waiting for? Join us now!
"I used the chair yoga on a day where my pain was extremely high. I had already decided that my day was canceled. Going out was not gonna be possible but i did the series and about 10 mins after i noticed i felt more alert and less pain . Before i knew it i was dressed in the car and driving to my sister's house. I ended up spending the evening there and then going to the grocery store after that. I would have never imagined being able to do a program and have such immediate results." #fibroflash @fibroflash
What is my investment?
This course will take you from "can I do yoga?" to "I am equipped to use the tools of yoga for the rest of my life"
With ease, over eight weeks (plus a bonus), you will:
Practice in your chair
Gently stretch
Practice on your bed

Breathe well (and learn why it's super helpful for pain and fatigue)

Practice poses to gently stretch and strengthen and that serve as standalone tools to help us with specific areas of tension

Assemble your yoga toolkit

Create a mindful bedtime routine to sleep better

Master the special meditation and relaxation that you can use anytime you need: to rest during the day, wind down to sleep, in the middle of the night etc.

Start to balance your central nervous system with a specially designed style of yoga (restorative yoga was created for those who were unwell or injured)

Know how and why these tools help so that you can continually draw on them whenever you need them

Feel calmer, confident of your ability to help yourself fast and supported - you won't be alone friend
More importantly, you will learn to move mindfully - a vital skill for managing pain and fatigue.

In this program you will gain tools that you can practice anywhere, anytime, forever. Stream them from your phone, tablet or computer.

The value is more than $400!
You get this for just $149 :O (and I offer a full money back guarantee - if you get into this program and decide you can't do any of it within 30 days then I will give you your money back. But I bet you will find it useful).
---
Consider for a moment...
How much have you spent previously on one-off classes, massages, or other physical appointments, that, while nice, the benefits ultimately wear off? You have to wait to see someone else to do something for you.
How much have you spent this year alone on treatments that might help?
How much time and life have you wasted with side effects from treatments that don't work?
What would it be worth to you if you could sleep even a little better?
If you could enjoy your movement?
To experience true relaxation?
To feel even a little less pain?
Priceless? Me too!
BONUSES
Receive the BONUS neck stretch video - learn the neck stretch that really helps me to manage neck and shoulder pain that has plagued me 24/7 for more than 10 years! This alone is something I'd have paid a lot for rather than having to wait and research and try things for so many years!

The talk How to Save Hundreds of Dollars on Physical Treatments - how you can use the tools of yoga to reduce your physical treatment bills.

Putting it all together, the Yoga for Fibromyalgia Framework
"I really love everything that you have for all of us suffering from this painful life we live." - A fibro fighter
Your Instructor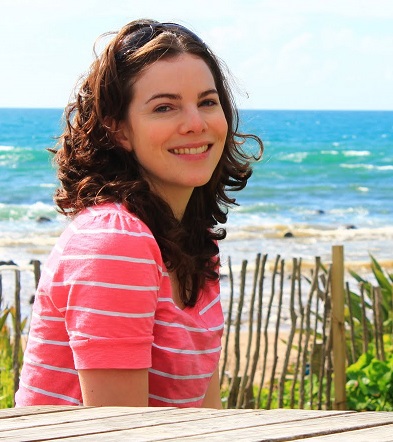 Melissa Reynolds is a mama of four beautiful boys. She is also a blogging, YouTubing, accessible yoga creating, chronic illness thriver.
For nearly a decade she has shared her journey to better wellness despite chronic pain, fatigue and insomnia on the blog www.melissavsfibromyalgia.com. In addition to over 300 blog posts and 200 YouTube videos, she has written two books, a workbook and several courses.
It is her mission to share yoga, pain and fatigue management tools with those who need it, so they don't have to spend as long as she did alone with no help.
Frequently Asked Questions
When does the course start and finish?
When you are ready. This is 100% self-study. Start when you are ready and come back to it again and again.
How long do I have access to the course?
How does lifetime access sound? After enrolling, you have unlimited access to this course for as long as you like - across any and all devices you own. You are also invited to join us live each time we run through.
What if I can't do the course?
This course is designed with you in mind. Every pose is a stand alone tool (seated mountain? child's pose?), every routine is gentle and adaptable (that pose doesn't serve you? Don't do it.). The rest section in week four might be where you are at right now and then you may grow into the poses in week one and then the gentle classes in weeks two and three. With this said, if you feel like you cannot physically do this course, or if you are unhappy despite giving it a go, simply contact us in the first 30 days and we will give you a full refund.
Do I need to check with my physical therapist/doctor?
Yes! You need to be cleared for exercise. It is also a good idea to run the idea of doing yoga by your medical professional.
What does "mindful movement" mean?
It means continually checking in with yourself and being aware of how you are moving and how it is impacting you. You are in charge of your body. Does something feel too strong? Pull it back. Does something feel great? Feel free to hold it a little longer. Cultivating awareness of movement is really beneficial for us.
Who is this course for?
Anyone who could benefit from more tools in their chronic illness toolkit. It is a gentle introduction to the tools of yoga that is specifically aimed at helping you in your journey. We look at breathing, individual poses that work on specific areas of tension, gentle classes to get us moving mindfully, a special bedtime routine that helps me and my students sleep better and meditation so you can rest and relax.
How does it work?
As soon as you enroll you will have access to the first classes. Each new module comes out once a week for nine weeks. This is to be accessed as and when you can. It is flexible, but you do need to designate time to practice to benefit. And then you maintain lifetime access (so don't worry about keeping up). BUT you do need to set aside time to USE these tools. They will only help if you do it. Set aside 5 minutes a night if you can, for a start. Or - my personal favourite - go straight to the Rest: Meditation section and start doing the Yoga Nidra guided meditation every day for the next 21 days - it will change your life.
Can I re-watch lessons?
Yes! Please do! You are welcome to dip in and out and come back as often as you need to take what you need.
How much time do I need for this program?
Each week for nine weeks, a new module will become available to you. I recommend that you set aside (schedule in your diary!) at least half an hour once a week to go through the week's class/es and practice them (I recommend you watch them through before practicing). And then another 15 minutes at least twice more in the week. So a minimum total of one hour a week, across a few days. Any extra is great. Don't worry if you fall behind, you have lifetime access.
Join us and start building your yoga toolkit today!