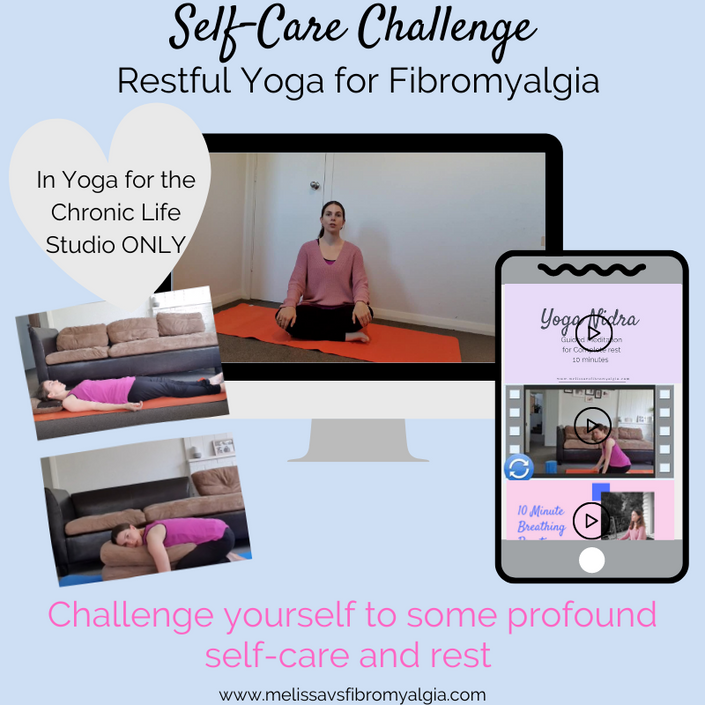 The Self-Care Challenge
Challenge yourself to some profound self-care and rest
The most relaxing challenge you will ever do
Let's invest in ourselves with some self-care.
In this special challenge, we will:
Learn some restful yoga tools
To rest well
Sleep better
Nurture ourselves
In 15 minutes or less
Melissa from Melissa vs Fibromyalgia is a mama, wife, author, Fibromyalgia, Mindfulness and Yoga Coach and a fibro fighter and she is passionate about sharing these tools with you.
You will end up with tools for your daily toolkit that you can enact yourself, anywhere, anytime, forever!!
What would it be worth if you could improve your sleep, pain and/or fatigue even just a little?
"For the first time I'm in a yoga class that I feel like I'm actually going to get it...I really can do this and I love how it feels." - Student of Foundations of Yoga for Chronic Pain and Fatigue
Why is Self-Care Important? Even without factoring in chronic illness...
We have far too much to do, too little time to do it and often we are not prioritising our health and wellbeing.
This article highlights the benefits of regular self-care: "When self-care is regularly practiced, the benefits are broad and have even been linked to positive health outcomes such as reduced stress, improved immune system, increased productivity, and higher self-esteem," says Brighid Courtney, of Boston, a client leader at the wellness technology company Wellable and a faculty member at the Wellness Council of America (WELCOA).
"The beneficial effects of self-care include improved well-being and lower morbidity, mortality, and healthcare costs." This article is a little more science-y and supports some pretty awesome outcomes from self-care.
In other words you will likely increase your enjoyment of life, experience better health, be more productive, spend less money on your health and live longer. Win-win-win!
"I love yoga with Melissa Reynolds it has helped me feel more relaxed, less cramping, less pain." - Danny from Health-Hats.com
The side benefits of the right yoga for us is nothing to turn our noses up at either. Good yoga can help:
• calm the autonomic nervous system
• improve sleep
• reduce fatigue
• reduce pain
• increase physical capacity
• decrease myofascial pain
• lessen anxiety
• reduce depression
• induce relaxation
• bring a mindfulness of movement
• help with awareness of proper alignment
And more
I LOVE knowing that I can induce deep rest, alleviate muscle tension, gently release my neck (a 24/7 issue to manage) MYSELF. It is profoundly satisfying to have tools, know when I need them and be free to use them almost anytime, anywhere.
This very special challenge has only previously been available to members of the Yoga for the Chronic Life virtual yoga studio. Now, for a very limited time, I am opening it up for YOU.
We all need some rest. And some tools we can take away and use regularly. (After work, during your lunch break, when the kids nap, first thing in the morning, during the night in painsomnia...)
So join us in this very accessible self-care challenge and reap the rest you deserve.
Course Curriculum
Self-Care Challenge
Available in days
days after you enroll
Day One
Available in days
days after you enroll
Day two
Available in days
days after you enroll
Your Instructor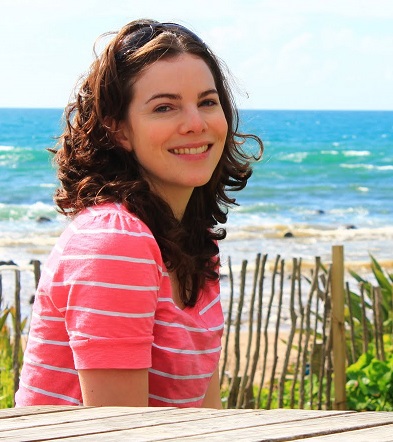 Melissa Reynolds is a mama of four beautiful boys. She is also a blogging, YouTubing, accessible yoga creating, chronic illness thriver.
For nearly a decade she has shared her journey to better wellness despite chronic pain, fatigue and insomnia on the blog www.melissavsfibromyalgia.com. In addition to over 300 blog posts and 200 YouTube videos, she has written two books, a workbook and several courses.
It is her mission to share yoga, pain and fatigue management tools with those who need it, so they don't have to spend as long as she did alone with no help.
Frequently Asked Questions
When does the course start and finish?
It is a special challenge usually only available inside the Yoga for the Chronic Life virtual yoga studio. For February 2022 you are being offered access for a very limited time. We start February 28th 2022 and you maintain access for as long as the course exists.
Do I need to check with my physical therapist/doctor?
Yes! You need to be cleared for exercise. It is also a good idea to run the idea of doing yoga by your medical professional. There is low risk of injury if you are moving mindfully and these poses are very gentle - but you do want to keep your medical team apprised of what you are doing.
What does mindful movement mean?
It means continually checking in with yourself and being aware of how you are moving and how it is impacting you. You are in charge of your body. Does something feel too strong? Pull it back. Does something feel great? Feel free to hold it a little longer. Cultivating awareness of movement is really beneficial for us.
Who is this challenge for?
Chronic pain and fatigue fighters - or anyone who would like to talk foundational poses and accessible yoga. We can't all be super bendy and do 90 minute classes!
How does it work?
Simply enroll now and you will immediately have access to your dashboard where you will be able to access the challenge. Do please share your progress in the comments section of each lesson. Do please commit to practicing!