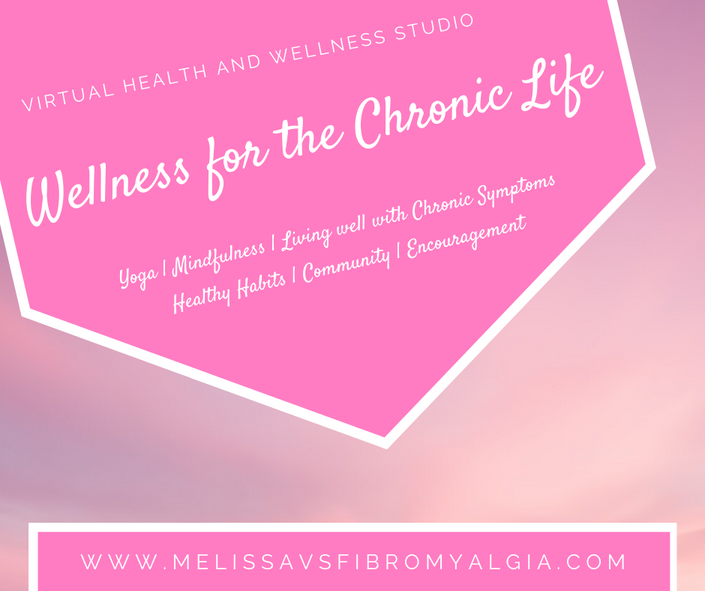 Wellness for the Chronic Life
Virtual wellness studio for your best wellness with chronic pain, fatigue and more
Are you busy? Exhausted? Juggling multiple priorities? Managing some health issues such as pain, fatigue, insomnia, anxiety?

Can you imagine what it would be like to have a supportive, understanding team of people to work on simple health and wellness practices including pain management, sleep, gentle movement and more. Access to resources to help you in all the key areas of managing chronic pain and fatigue and creating your best wellness possible. In a simple and sustainable manner.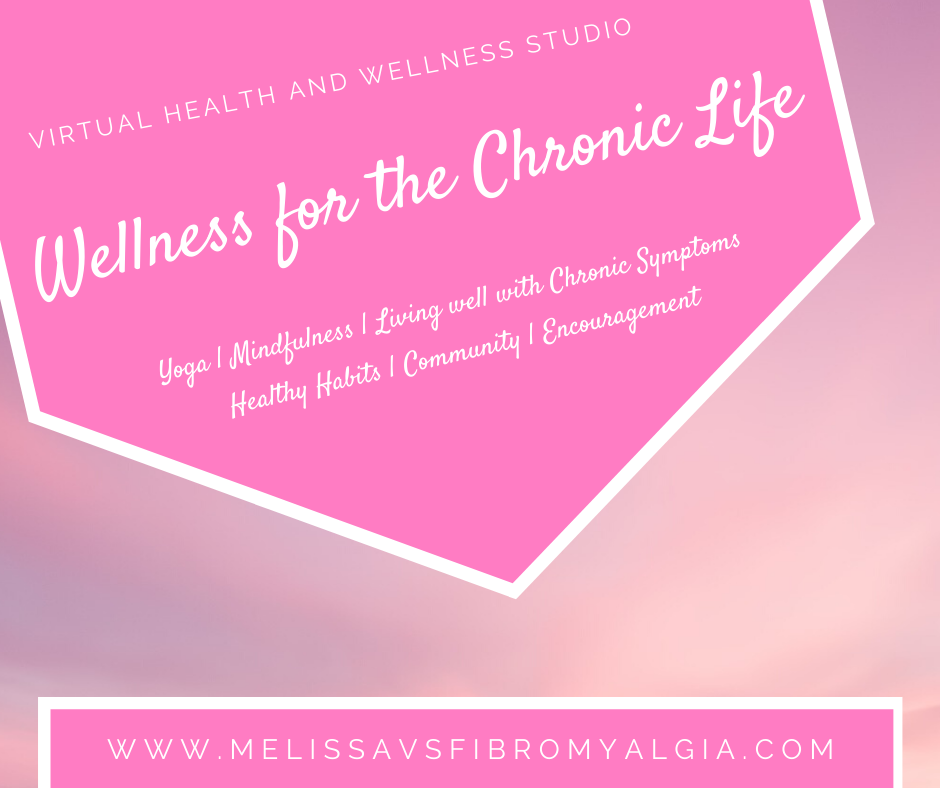 You:

Are busy, anxious and/or overwhelmed
Are tired and/or sore
Feel your health is just one more thing you have to do
May not have anyone in your corner who "gets" it
May have been let down by those that were meant to help you
Would LOVE to take practical steps to improve your wellbeing as far as possible
Here you will not be alone. In addition to tools to inspire simple, sustainable changes, you will gain support and encouragement from a coach who's been there and a team of women on a similar journey.
---
I cannot wait to get to know you and share the things that have changed my life! This program is the way for me to share the best of the research and my personal experience. I am opening my toolkit to help you build your own.
It breaks my heart to think of 25 year old me who was struggling every single day with severe pain and fatigue and no hope or support. No tools to help myself and no help from my doctor. It took me years and hundreds of hours of research and many thousands of dollars of experimentation to get here.
Let me save you that time, money and pain.
I have halved my pain and fatigue levels, reduced anxiety and brain fog, I sleep better (hallelujah!), I have three children five years old and under and I get to help you achieve your wellness goals!

---
The costs of chronic illness are high. We have experienced it directly in the form of lost income, costs of treatments, in loss of quality of life and, often, in guilt and loneliness.
You may also know that simple health and wellness practices can really impact our quality of life and, often, head off creeping ill health - especially conditions that are directly impacted by lifestyle practices.
I can't tell you how much misery I would have saved, or if I could have stayed in full time work, from receiving help earlier. I think about this often - the things I could have achieved, the money I could have earned, the experiences I could have had. But I can share crucial tools, research and resources I have found and created with you.
Let me help you grab some relaxation, some gentle exercise, help you work on improving your sleep, simple healthy habits, pain, fatigue, anxiety - whatever you are working through. We will do it in short classes, workshops, micro courses and more. With a supportive exclusive group to help you on your journey.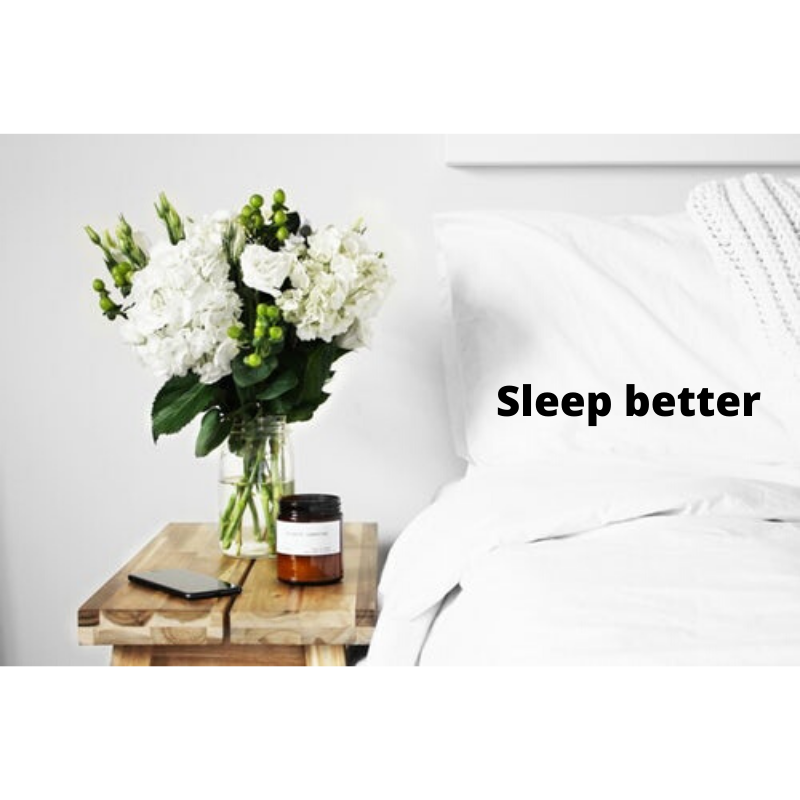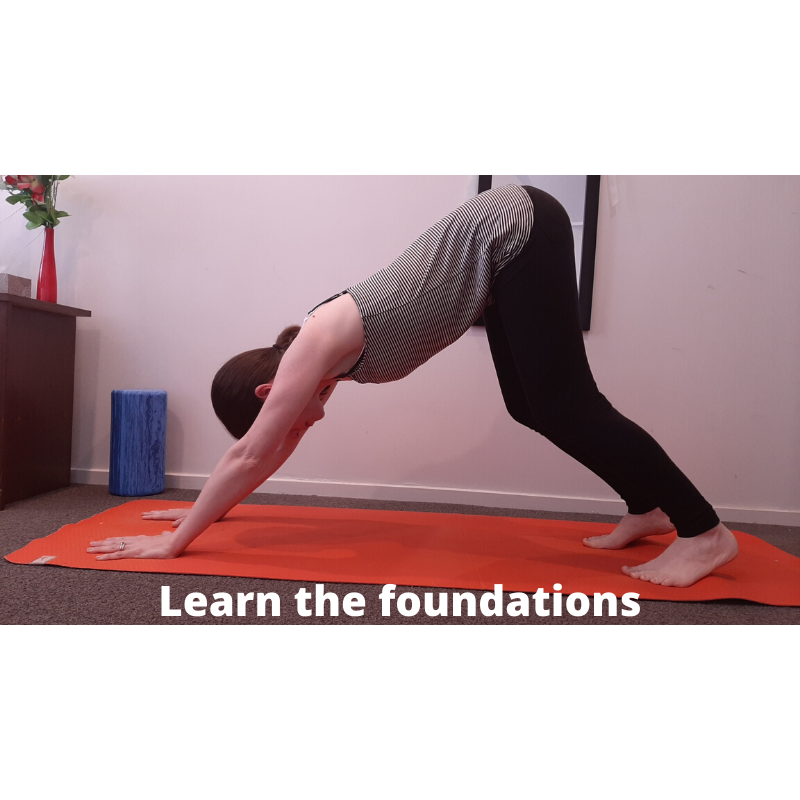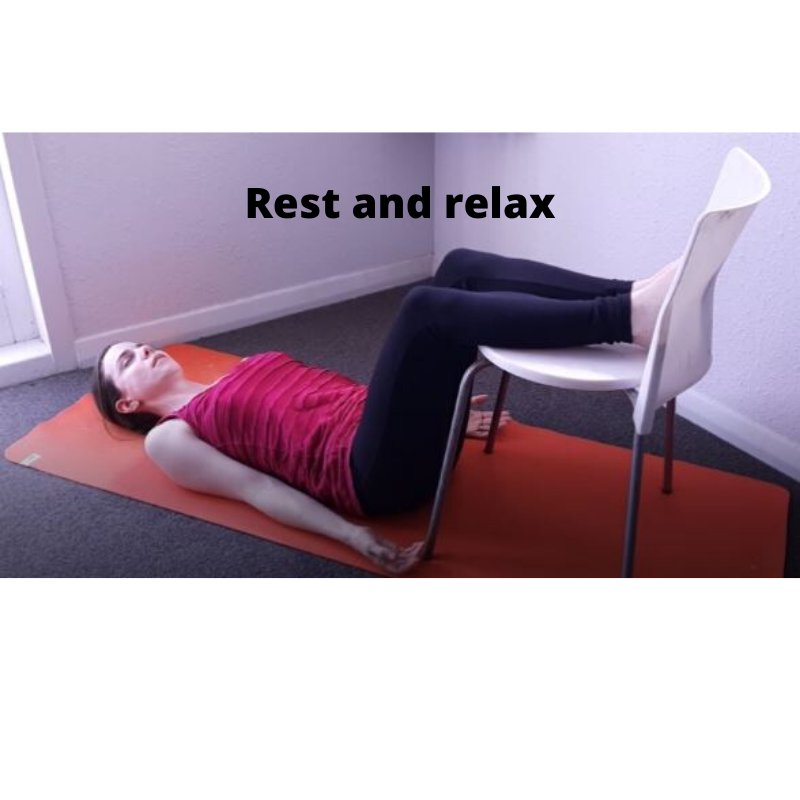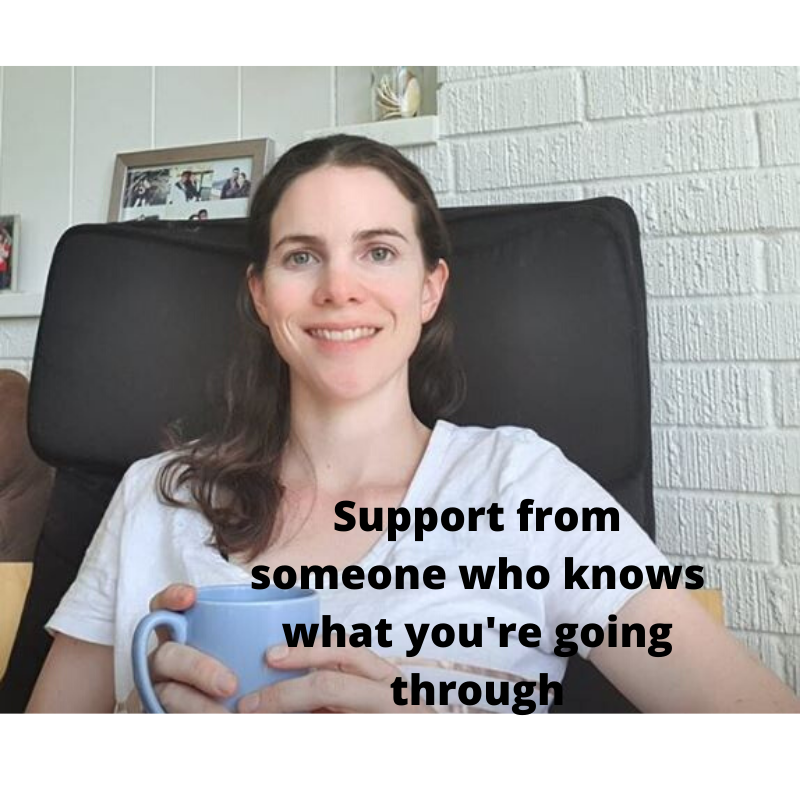 Shut yourself in your room with a yoga mat and do a 15 minute class for calm.
Or a seated class from which you can pilfer poses to use when you are feeling stiff, sore or tired at work.
You can work through a mindfulness course to add some mindfulness into your life.
Or grab a 15 minute body scan meditation to help you get off to sleep.
Work on your mindful bedtime routine and sleep better
Figure out some new pain management tactics
Make some tiny, sustainable changes.
And the exclusive group where we get to know each other, support one another and gain access to Melissa Reynolds – a Mindfulness and Yoga Coach, chronic symptom fighter and busy mama with a passion for helping you reach your best wellness with your current challenge. The chance to ask questions and share your wisdom (because we all have unique experiences from which to share).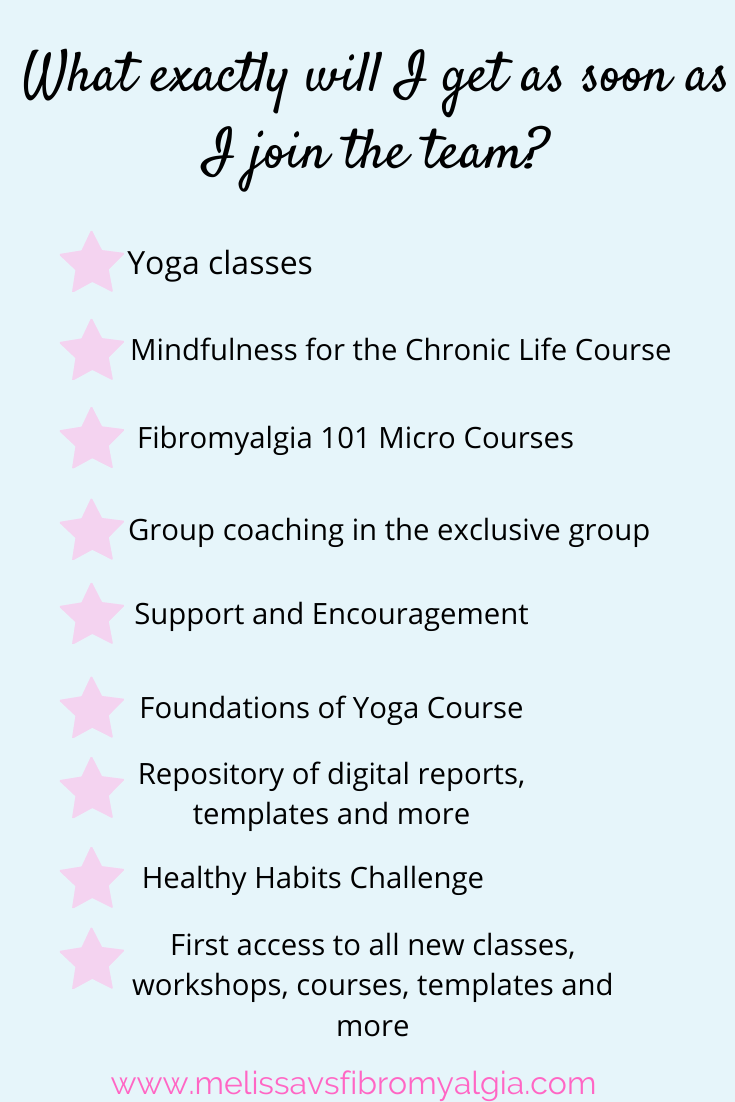 Why Yoga, Group Coaching and The Other Tools?
Research is showing us that yoga can help us to reduce pain, increase energy, improve sleep, decrease anxiety, help us breath better and calm the central nervous system - let me teach you these tools so that you can utilize them wherever and whenever you need them.
Can you imagine feeling pain in a certain area and knowing a pose that can help you manage it? Feeling overwhelming fatigue and using a guided meditation to help you achieve some deep rest. Creating a mindful sleep routine that helps you get to sleep faster. Have tools in your (metaphorical) back pocket to help you as and when you need?
Hope + self-efficacy (knowing you can help yourself and not wait for someone else) = better outcomes for us.
This is what yoga offers. Call it what you like - stretching + breathing + meditation - if you prefer.
With no spiritual "woo woo" (although I'm happy to share the philosophy behind the eight parts of yoga), no pretezeling, no 90 minute classes and no use of the "c word". (The "c word" is cure.) We don't use that word around here. We are looking for tools to help us manage our wellbeing. And yoga offers these.
Early research specifically on coaching for fibromyalgia is so encouraging. Health coaching is gaining wider popularity because it is the bridge between busy doctors and helping patients with the practical steps of enacting doctor's advice. Research on educational wellness programs show a six time return on investment - that significant numbers of people miss fewer days of work (hopefully meaning people feel better and don't miss out on income).

I am on a mission to combine the best of the research, anecdotal evidence (patient testimony) and personal experience to create the best program for you to achieve your best wellness with chronic symptoms.
---
"I've started your courses! LOVE them. You are clearly knowledgeable, confident, friendly and have a desire to help." - Lisa

In addition to this you get:

New content added monthly.
The ability to suggest subject areas and new content ideas.
Access to the course-related forums so you can chat through ideas related to the courses.
---
"I think it was exceptional. I am dealing with the idea that this will never go away. I think that is my biggest struggle. Other ailments or conditions I have had in the past there has been an operation or cure. It's a bit overwhelming on my flare days." - Fibro Fighter

---
Why are you offering this?
You deserve to make your vision for thriving even with everything you have going on, and you deserve to achieve it. Make use of my strategies and resources - the things that have helped me to halve my pain, fatigue, brain fog, insomnia and more - to help you in your journey.

We are all unique, so I don't know how far you will go but I know for sure you can improve your quality of life if you put your mind to it.
You told me that accessibility is important – being able to access a program as and where you are. In your pajamas with a heat pack in bed? Via headphones with your cellphone on the bus on the way to work? In five minute snippets between work/parenting/life? With a toddler coloring next to you?
You told me that it can be difficult for us to make and keep appointments - this way you can get all of the support without the stress of trying to be somewhere at a certain time. You have 15 minutes and want to do some yoga right now? Get out your mat and your phone and you are good to go!

We know that chronic pain, fatigue, anxiety, overwhelm and more are complex issues that require many puzzle pieces which are unique to each person. It will take time. Use your precious energy for doing the work not for trying to gather the information and figure out the processes to track your progress.
---
How do I get in on this??
Simply enroll now! You can get started IMMEDIATELY.
What is my investment?
For less than $20 a week (less than a cuppa a day) you will receive:
Support to take small, sustainable steps
Encouragement and gentle accountability
Knowledge that you will change your life - self-efficacy
Practical tools to help you choose those small steps
And the exclusive group all working toward their best wellness with lots of challenges (health, family, work, all of the above).
With live Q&A sessions
Hope
We all need to spend more time on self-care but we need to do it fast!
No need to leave your home.
Access it on your phone, tablet or computer.
Submit questions for coach Q&As to get some personalised feedback.
Make yourself a promise: Perhaps you would like to dedicate 30 minutes per week at first (one 15 minute class and 15 minutes to join in the group?)? Or 15 minutes every other day? Maybe you are on a mission and you would like to work through a course, do one yoga class a week and join in on live Q&As once per fortnight. Ask yourself what you can manage and commit to yourself. But remember - as important as your self-care is, it is not worth stressing yourself by overdoing it.
How much have you paid for fitness classes or yoga classes that burned you out? Or "donated" to a gym that you never turned up to? How much have you spent trying to get support?
You would pay over $300 for the tools you automatically get access to here.
For four yoga classes a month you would be paying around $80 and they may not even be accessible for you. Group coaching programs that offer monthly sessions cost hundreds.
This is the most accessible way for me to help you in your journey.
In addition you will be helping me to continue offering the free resources on Melissa vs fibromyalgia so that all people can access resources and encouragement.
Get in fast as numbers are capped so that I can give my best to the team members! Once you sign up, your price is yours for the duration of your membership with us - so even as the resources and the value grows you will retain your price.
What can you guarantee?
Let's be real: The level of benefit depends on the amount of effort you put in. I can give you the tools, the information and support, but I cannot do the work for you.
I am a coach, not a medical professional and I can't guarantee more than that I will make the best resources I can, come alongside you and help you do the work – and I will do this! I have created the best content possible to equip you on your journey. Because that is the most anyone can do. Day to day, it's on you.

A note - this program is not meant to diagnose or treat you. That is between you and your medical team. My work is meant to equip you to take control of your journey so that you reach your definition of thriving as fast as possible.
How does it work?
As soon as you enroll you will have access to all of the resources listed. Simply click on the course/workshop/resource you want to start with and follow the easy to follow instructions. They are all designed with you in mind, in easily digestible chunks with the worksheets to go alongside the videos.
Do check in with your medical team. Do follow your intuition. This is about you developing yourself as the head of your wellness committee.
I will put you on the email list so you know as soon as new content has arrived, get your opportunity to request new content areas and basically know all things Wellness for the Chronic Life. You will also be invited to the exclusive group for the team supportive goodness. I am so excited for this!
There is a lot of information and resources here, I feel like I don't know where to begin...
You can approach it two ways - start at the beginning and work your way through (taking your time).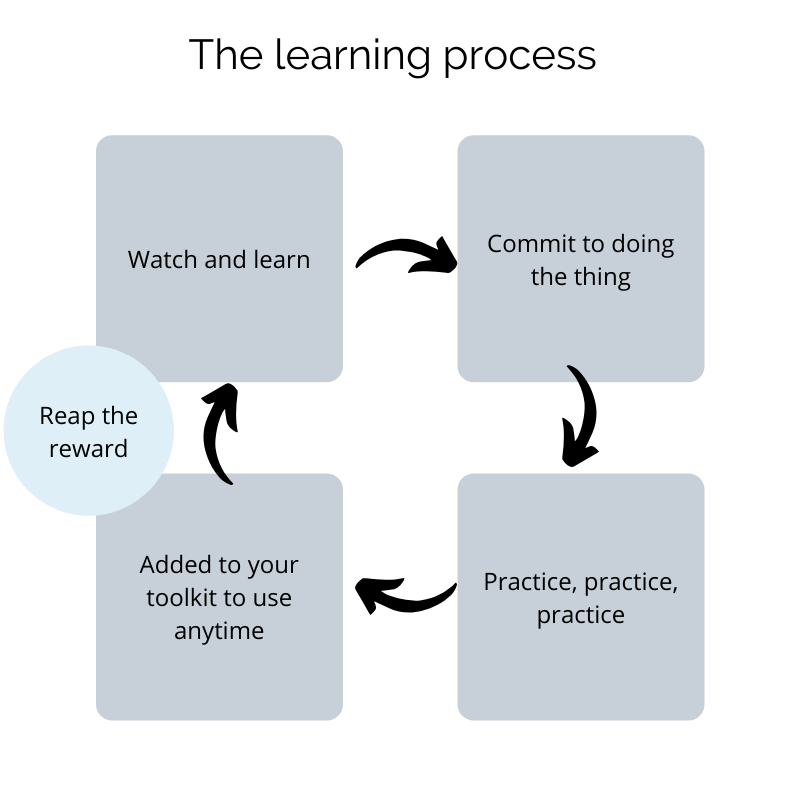 Or check out the options and see what resonates. Have you been really wanting to work on your sleep? Start with Sleep and Fibromyalgia 101. Have you been curious about utilising mindfulness to help you calm that butterfly feeling in the pit of your stomach, help you sleep, manage pain and more? Start with Mindfulness for the Chronic Life course. Do you need a quick win? Start with the healthy habits challenge. Just need a quick yoga class, take one!
Still unsure? Send me an email!
---
What is coming up?
Healthy habits challenge
Live training: micro self-care as part of our whole of life protocol
My goal planning kit
---
A little bit about Melissa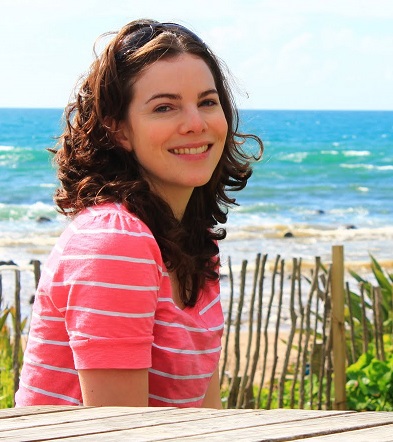 I have been sharing my journey as a chronic challenge fighter, mama and busy woman for several years. I have created quite a repository of digital tools, resources and informational products - all to try to help you make your journey to your best wellness shorter than mine.
I lost so much of my life waiting for a diagnosis, waiting for a doctor to help, waiting for research to show me what to do and then trying all the things.
Now I:
Have reduced my pain levels by half
Dramatically reduced my fatigue levels
Sleep 100 times better
Have three healthy children (all five years old and under)
Experience less brain fog, less anxiety, less digestive symptoms
Have a small business
Am thankful every single day
I did it the hard way. Now you can do it the easier way. There are no magic buttons, no cures and no easy fixes. But there is the research and learning of those who have gone before. There is also the support here - something that I was sorely lacking earlier in my journey.
My blog, Melissa vs Fibromyalgia is featured as one of Healthline's Top 19 Fibromyalgia Blogs of 2019. My YouTube channel was also included in Feedspot's Top 15 Fibromyalgia YouTube Channels list. I have written two books: Melissa vs Fibromyalgia: My Journey Fighting Chronic Pain, Fatigue and Insomnia and Pregnancy and Fibromyalgia. I facilitate two Facebook groups: Melissa (you) vs Chronic Pain, Chronic Fatigue, Fibromyalgia and Pregnancy and Parenting with Chronic Pain, Chronic Fatigue, Fibromyalgia. In addition I have created a free micro course and the Fibromyalgia Framework Workbook.
---
What people say about Melissa's work
"I think it was exceptional. I am dealing with the idea that this will never go away. I think that is my biggest struggle. Other ailments or conditions I have had in the past there has been an operation or cure. It's a bit overwhelming on my flare days." - A fibro fighter
"I absolutely loved all the resources on pregnancy and breastfeeding. Thanks for your generosity in sharing all this info which can't be found anywhere else." - A fibro fighter
"I really love everything that you have for all of us suffering from this painful life we live." - A fibro fighter
"Love how practical these tips are and how they take into account how "life" comes into play with pacing." Lisa

"I really loved this. It is really well researched and honest. You also have a lovely calming voice." Amanda
"It was like a reset point where Melissa helped me to focus on the goals I have by breaking it down into smaller goals." - A fibro fighter
"I am deeply thankful for all of your information and resources...I also appreciate your focus on being holistic and trying to treat the underlying cause of the condition, rather than solely the symptoms. You are an inspiration and I am so thankful to have found all of your resources." Maya
"you go slowly enough, are not pushy, demanding perfect poses or the world will end, etc so I'm truly NOT feeling stressed about it. For the first time I'm in a yoga class that I feel like I'm actually going to get it!!! I feel like if all I did was go through these poses just as you have them presented for us here, over and over, that alone would be a huge benefit to me and is DOABLE!!! I'M SOLD! I REALLY CAN DO THIS and I love how it FEELS." Meshea

---
This program is for you if you...
Manage chronic symptoms
Need to access yoga, mindfulness and healthy habits resources in quick snippets
Know you need to evaluate all information before implementing it, trust your intuition and check in with your medical team
Are good at making use of the resources and putting your learning into action - one step at a time
Are determined to improve your quality of life
Know you will be the one to figure out what works best for you
Want support in your journey
Would like a kick-start in the form of tools, information and resources

If you would prefer just the yoga and meditation track where you get new yoga and meditation classes each month without the extra courses or exclusive group with group coaching - try the Yoga and Meditation for the Chronic Life track. This is going to help you commit to your practice - no driving, no wasted energy, just yoga and meditation for the chronic life.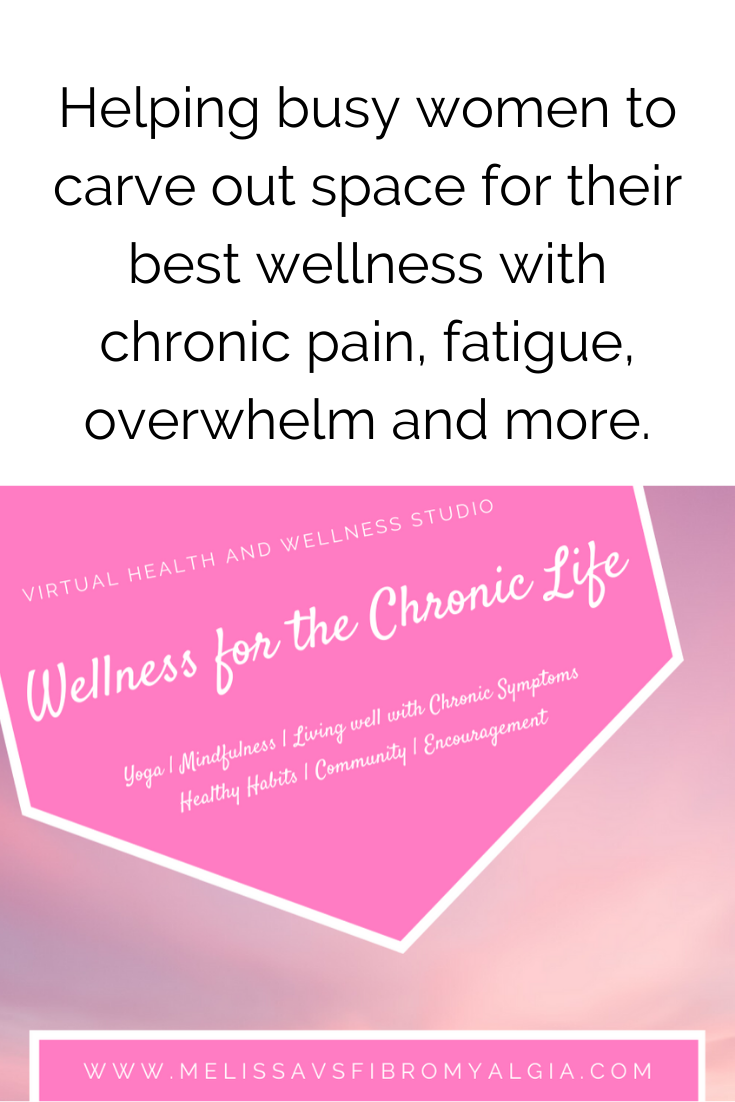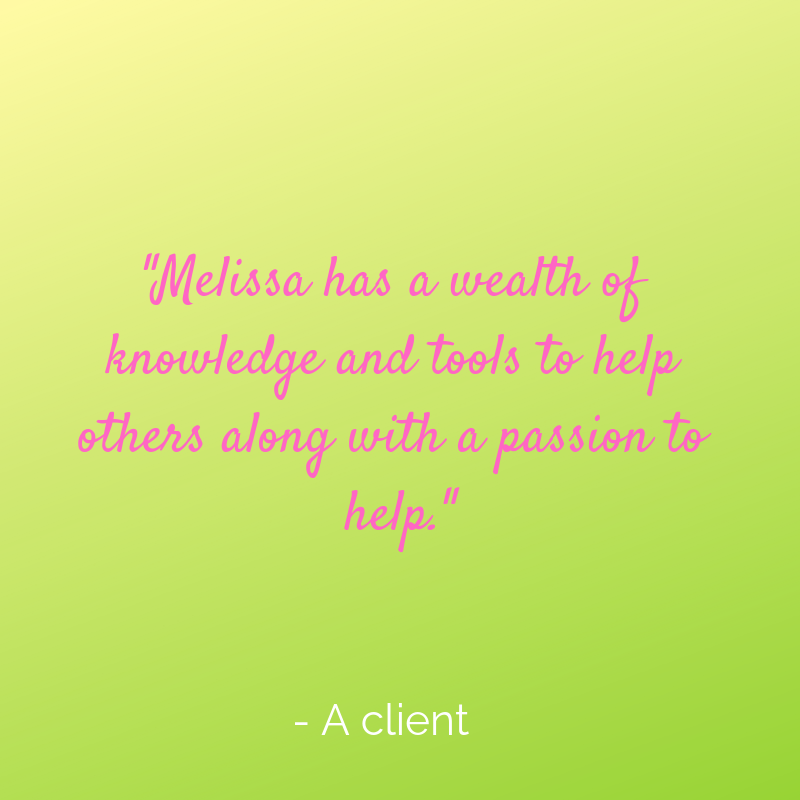 If you have any questions - shoot me an email melissa[at]melissavsfibromyalgia.com.
Ask yourself - what would happen if I committed 15 minutes a day to my wellbeing?
Your Instructor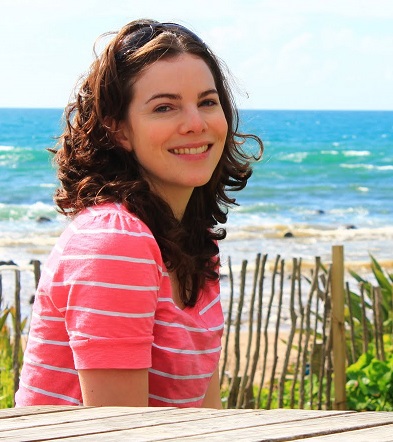 Melissa Reynolds is a busy, health-focused, yogi, blogging, mama of four young boys. For nearly a decade she has shared her journey to better wellness despite chronic pain, fatigue and insomnia on the blog www.melissavsfibromyalgia.com. In addition to over 300 blog posts and 100 YouTube videos, she has written two books, a workbook and several courses.
It is her mission to share yoga, pain and fatigue management tools for those who are busy, overwhelmed, living with chronic pain and fatigue and more.
Course Curriculum
Welcome!
Available in days
days after you enroll
Resource Library
Available in days
days after you enroll
Library
Available in days
days after you enroll
Courses Included with Purchase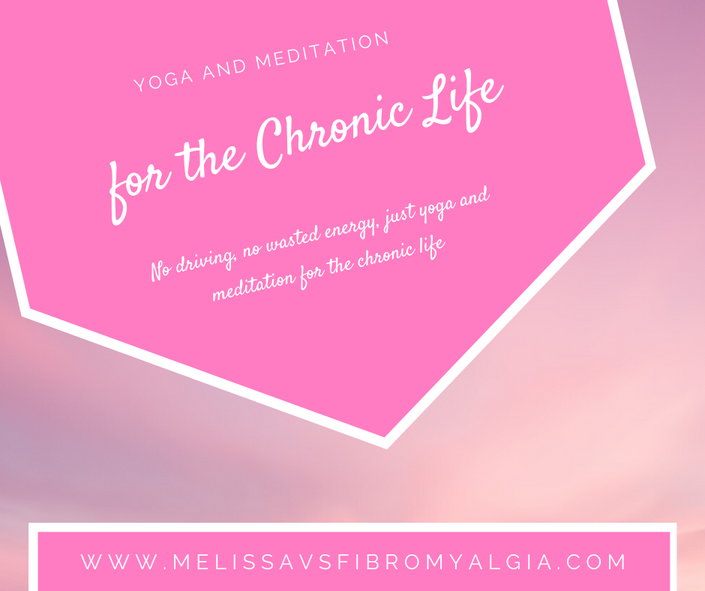 Yoga for the Chronic Life
Online Yoga Studio Specifically for People With Chronic Pain and Fatigue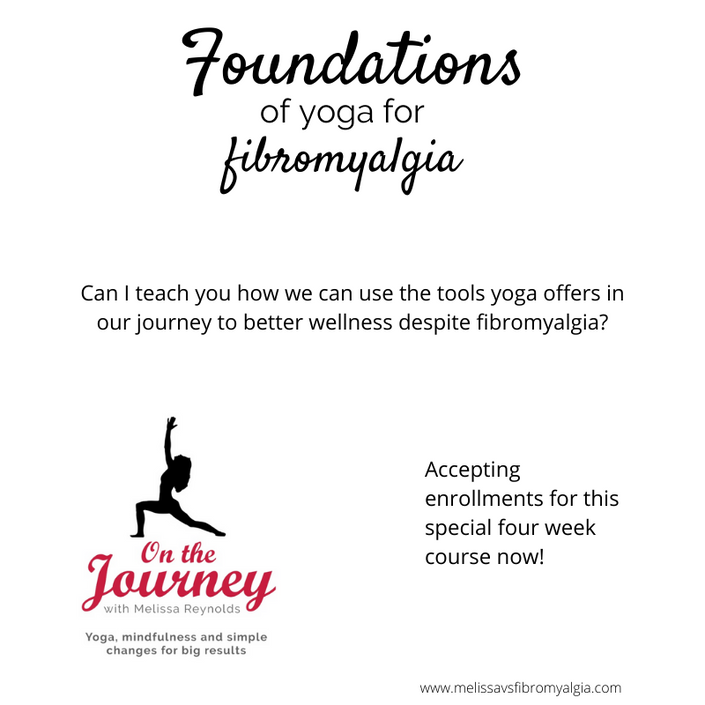 Foundations of Yoga for Chronic Pain and Fatigue
Four weeks to show you how the tools of yoga can help you in your journey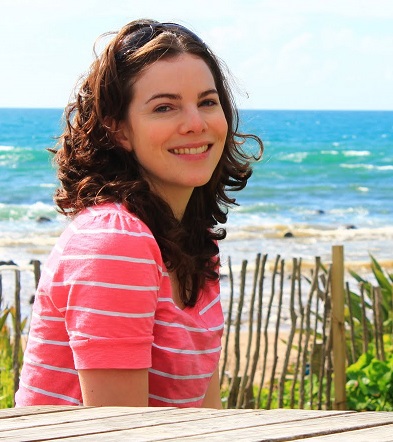 $79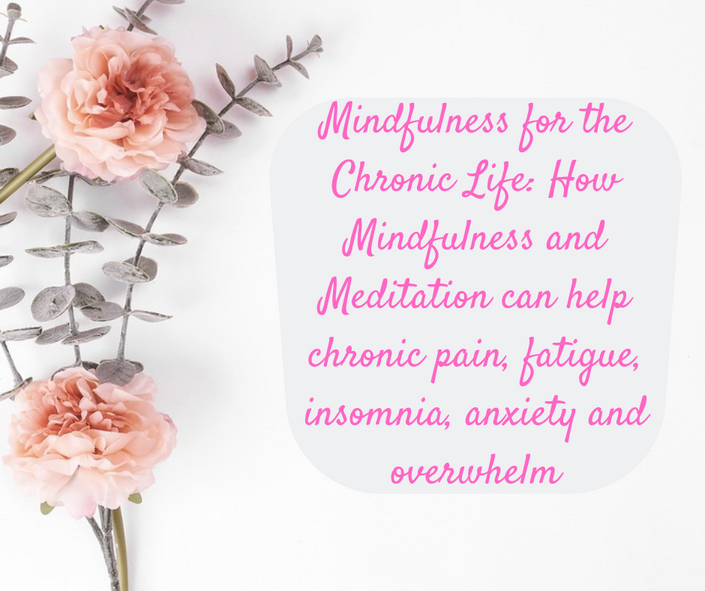 Mindfulness and Meditation for the Chronic Life
How Mindfulness and Meditation can help with chronic pain, fatigue, insomnia, anxiety and overwhelm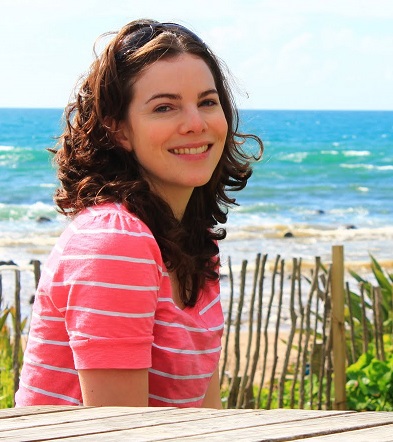 $89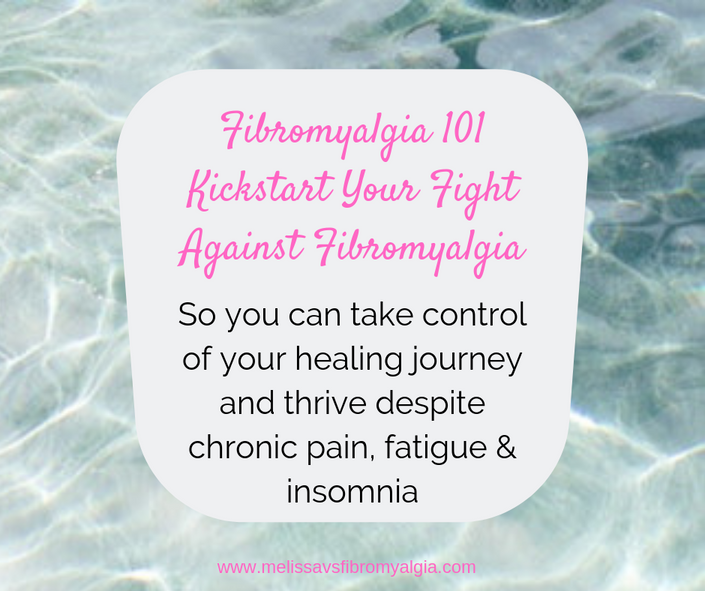 Fibromyalgia 101
What it is, who gets it, diagnosis and misdiagnosis, and can you treat it?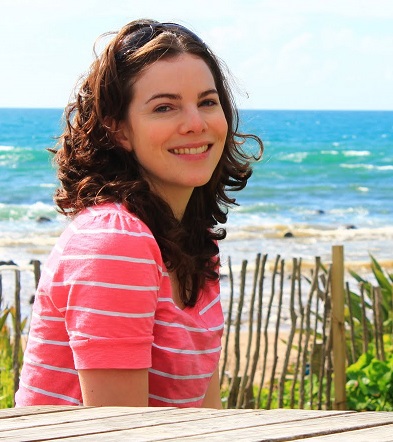 FREE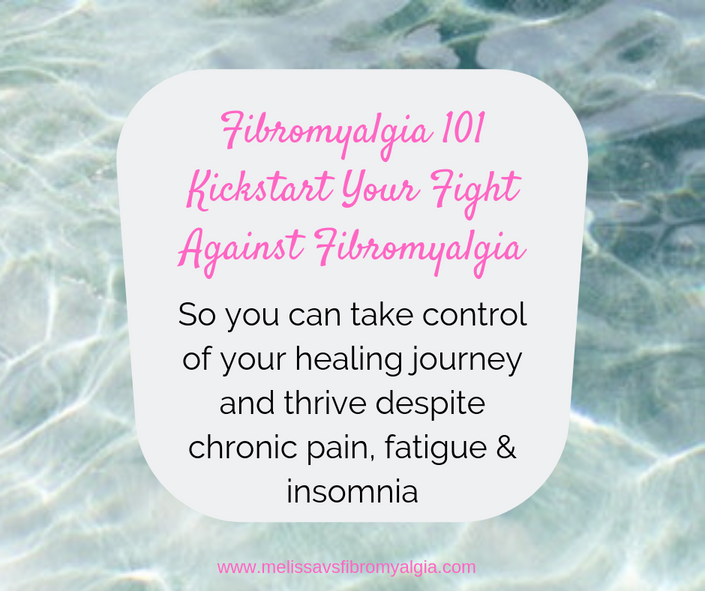 Central Nervous System and Fibromyalgia 101
Your introduction to the central nervous system in fibromyalgia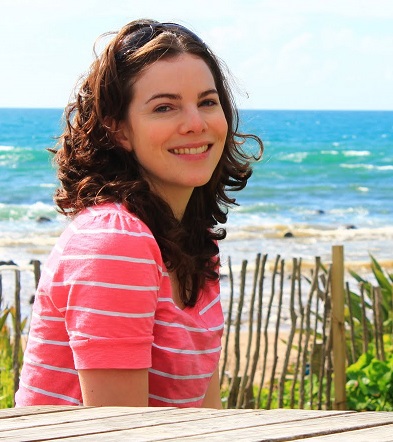 $37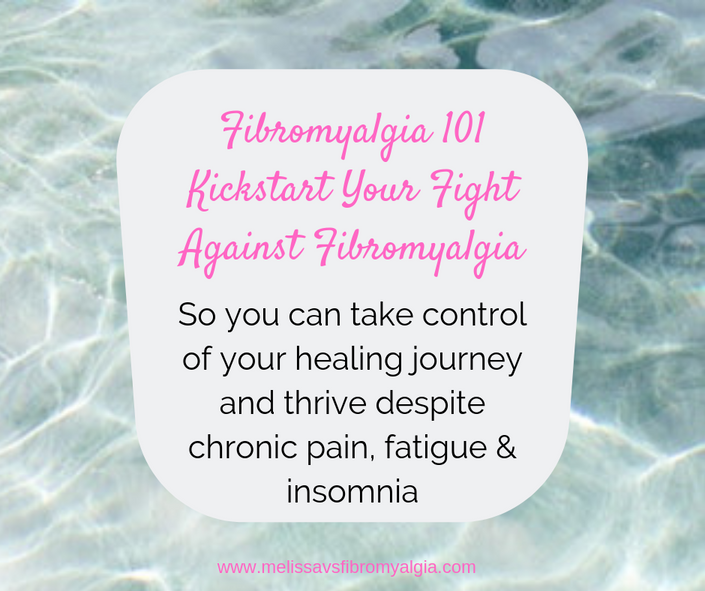 Normal Human Needs and Fibromyalgia 101
Your introduction to normal human needs in fibromyalgia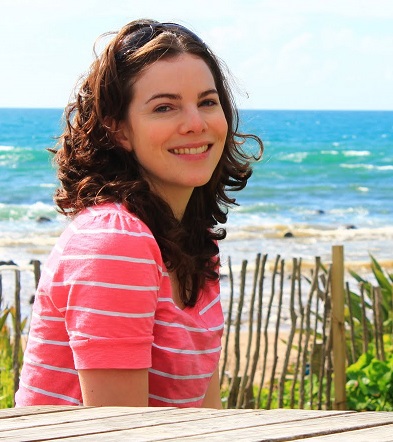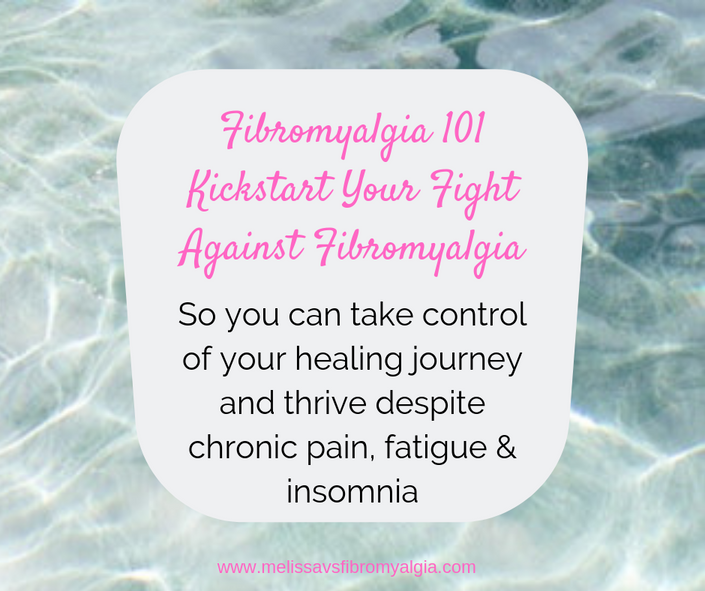 Pain Relief and Fibromyalgia 101
Your introduction to pain relief in fibromyalgia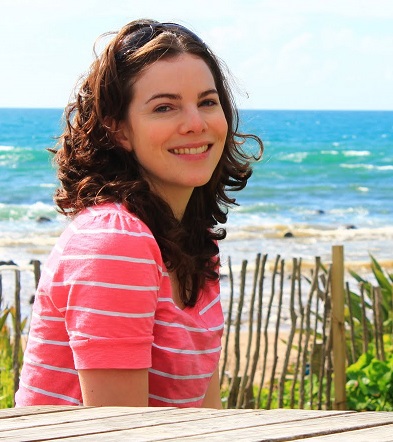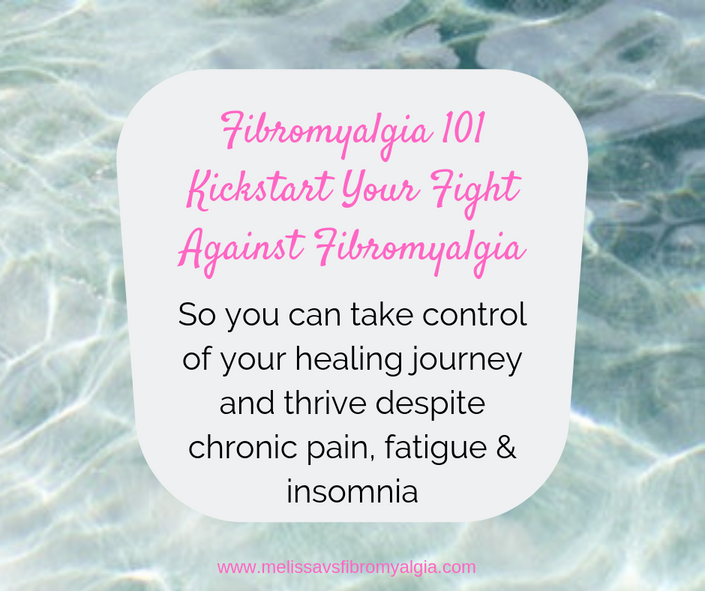 Fatigue, Pacing and Fibromyalgia 101
Your introduction to fatigue and pacing in fibromyalgia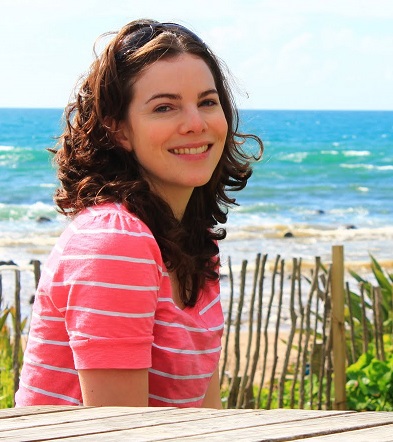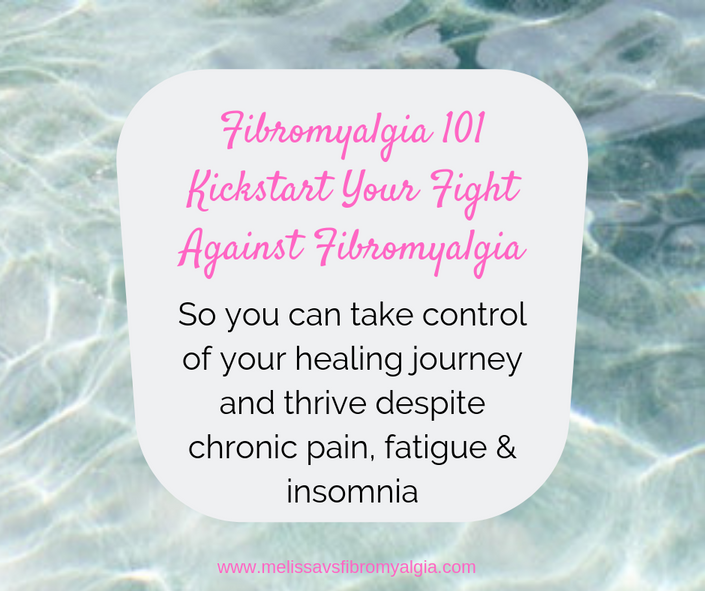 Sleep and Fibromyalgia 101
Your fibromyalgia and sleep 101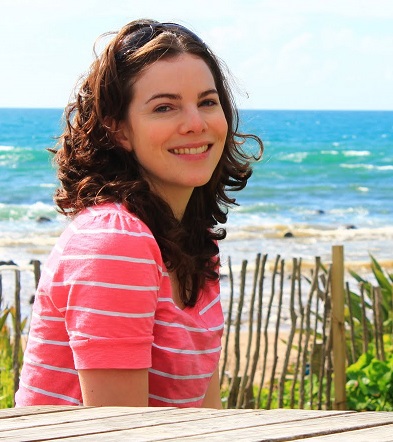 Original Price: $495
Frequently Asked Questions
When does the course start and finish?
You can access the existing content right now and work through the content as quickly or slowly as you like. New content is added monthly. It is designed to be accessible - use it from your tablet in bed, your phone on the bus or your computer in a comfortable chair.
How long do I have access to the programme?
You will have access to all existing content immediately with new content added monthly. You will continue to have access for as long as you are a member.
What if I am unhappy with the programme?
If you are unhappy, you can cancel at anytime. Given the fact that you will instantly access hundreds of dollars worth of content, we cannot offer refunds. If you genuinely give the content a go, I believe you will experience benefit.. If you want to chat with me prior to signing up, email me
[email protected]
or DM me through my Facebook page @MelissaReynoldsWellnessfortheChronicLife.
How do I make suggestions for future additions to the programme?
What is a coach?
Coaching a partnership between coach and client where the coach supports, encourages and provides accountability while the client works toward their goals - in this case improving chronic pain, fatigue, insomnia, anxiety and overwhelm. Where the coach has special knowledge, as I do with the "chronics" and mindfulness through lived experience and research, they may provide more direction. But the client is ALWAYS in charge. Coaching is NOT therapy. I am not a qualified health professional. My aim is to empower you to take control of your journey. If you need help with mental health issues or counselling please contact a local agency.
Do you use the "c" word?
No. I never use the word cure. There is no current replicable cure for fibromyalgia. I offer a way to help you take control and improve your quality of life despite your symptoms. They may improve, as mine have, but I still live with chronic pain, fatigue and insomnia every single day, but the level I experience them has decreased. I genuinely utilise all of the things I tell you that I do.
If I have read everything available on melissavsfibromyalgia.com will this programme be useful?
Yes! There is content here that has never appeared on the blog, the templates and worksheets and audios are not available on the blog. The blog is a basic start for your journey, this programme is your level-up!
Disclaimer, Who's in Charge?
The student enters into this relationship with the complete understanding that they are fully and solely responsible for their own decisions, inactions, actions and the consequences and outcomes of such. The student should always carefully evaluate the consequences of their various options and decide accordingly. The Coach does not in any way share that responsibility or any associated liability. The Coach makes no representation or warranty to the student that any of the resources, sessions or activities will work for their particular circumstances and in no way guarantees any results. The student also agrees not to hold the Coach liable for any actions or results for adverse situations created or taken or as a result of a specific referral given by the coach. This program is in no way a substitute for your medical team, it is not meant to diagnose or treat any illness. The purpose is to expose you to ideas, research and resources that you can use to inform your personal journey. You are the head of your medical team. You medical team includes your doctor and other medical professionals. You are welcome to show the content of this program to your team. You are also welcome to email me
[email protected]
if you have any questions. By enrolling in this program you agree to the above statements.
Do I need to check with my physical therapist/doctor?
Yes please, you do need to be cleared to exercise. It is a good idea to run the idea of doing yoga by your medical professional.
What is mindful movement?
It means continually checking in with yourself and being aware of how you are moving and how it is impacting you. You are in charge of your body. Does something feel too strong? Pull it back. Does something feel great? Feel free to hold it a little longer. Cultivating awareness of movement is really beneficial for us.
So, what do I get?
Immediate access to my premium content PLUS access to the monthly additions AND the exclusive group where you can submit questions for the live Q&A sessions. Foundations of Yoga for Chronic Pain and Fatigue course, Fibromyalgia 101 courses, Mindfulness for the Chronic Life course, the Yoga for the Chronic Life library, repository of digital downloads to help you in your journey and more. First access to new programs. Regularly added yoga classes designed especially for chronic pain and fatigue fighters and support from a coach who has been there and is doing this journey too.
Why are enrollments limited to just 10 people?
Because I am committed to serving members as well as I possibly can! We may adjust this in future.
Give yourself the gift of focusing on your own wellbeing today!