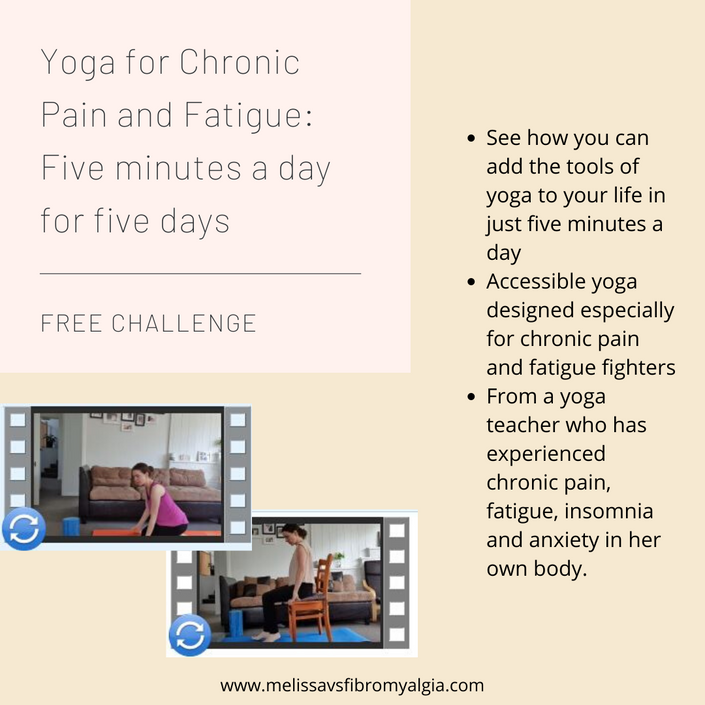 Yoga for Chronic Pain and Fatigue
Micro yoga program designed especially for chronic pain and fatigue
Mindful movement, breathing and meditation
specifically for chronic pain and fatigue
from wherever you are (house-bound?)
Are you curious about how the tools of yoga might fit into your journey?
How to experience the benefits as suggested by research: improved sleep; reduced pain, fatigue and anxiety; relaxation and more.
But you think it's too hard? You can't possibly contort like that? Or manage a 90 minute class?
You don't need to in order to benefit! I have been using yoga to feel better for several years and I am not super bendy and have never done a 90 minute class!

Would you like to try some mindful movement, breathing and meditation? Aka the big three yoga tools that can go in our daily toolkit? In a super accessible, no risk way? Join us!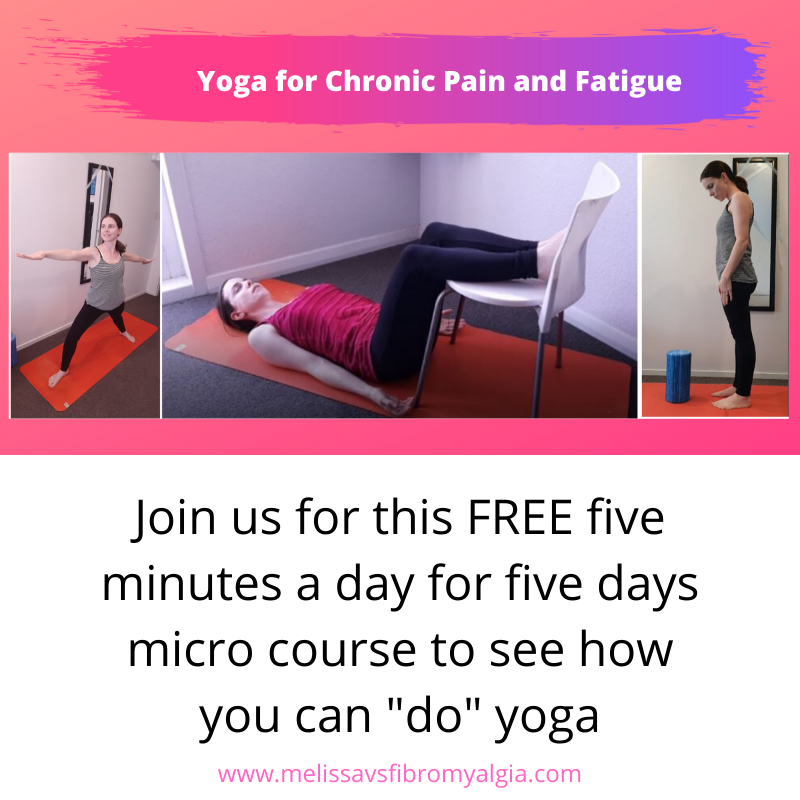 In this special challenge - for just five minutes a day for five days:
We will experiment with five foundational poses and how we can alter them to our current physical journey.
We will learn how to incorporate yoga into our day, even for just five minutes.
Commit to a journey with me for five minutes a day, for five days and see the difference it makes.
You will see how yoga can help us, no pretezeling, no 90 minute classes and no leaving your home!
Melissa from Melissa vs Fibromyalgia is a mama, wife, author, Fibromyalgia, Mindfulness and Yoga Coach and a fibro fighter and she is passionate about sharing these tools with you.
You will end up with tools for your daily toolkit that you can enact yourself, anywhere, anytime, forever!!
What would it be worth if you could improve your sleep, pain and/or fatigue even just a little? All you need to invest right now is your time and energy - see you on the inside.
So what will it look like when I practice?
On day one we will set the foundations and breathe (this can be done in a comfortable chair with your feet flat on the ground as well as on the floor). Why do we need to breathe well and how to we do it?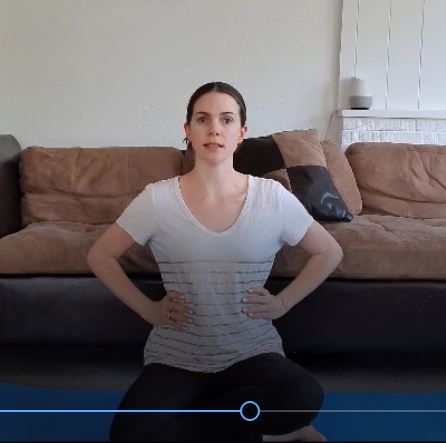 On day two we explore table top and cat and cow pose - foundational floor poses. We also look at the seated variations.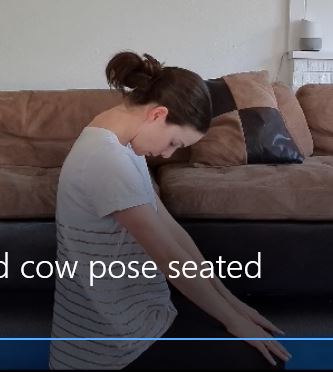 On day three we move into neck stretches - so many of us need to regularly stretch our neck and those long hold stretches are not as helpful as the more dynamic ones.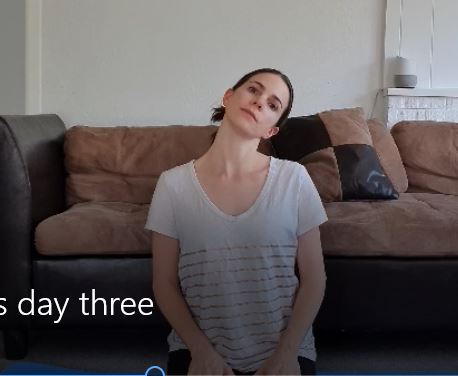 Day four is mountain and forward fold - two super useful and adaptable poses and we work through the options for these together.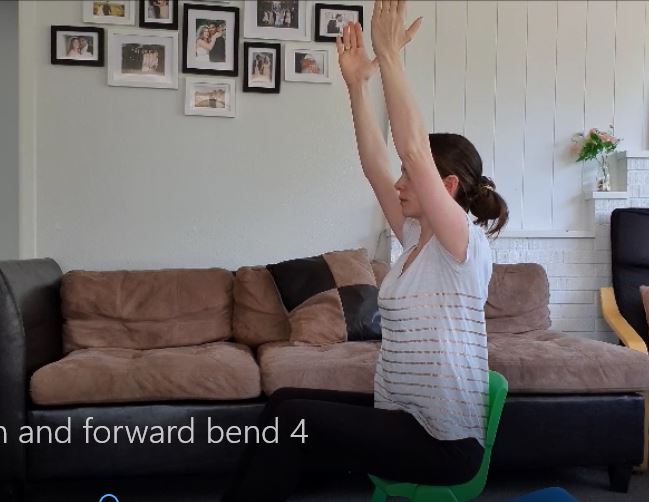 On day five we rest! You can even do this on your bed! Or side lying if you can't lie on your back. This is actual footage of me practicing yoga!

I also couldn't help myself...we have a sixth bonus day for a spotlight on restorative yoga. Restorative yoga is a passive, relaxing practice that will help you calm the central nervous system.
"For the first time I'm in a yoga class that I feel like I'm actually going to get it...I really can do this and I love how it feels." - Student of Foundations of Yoga for Chronic Pain and Fatigue
"I love yoga with Melissa Reynolds it has helped me feel more relaxed, less cramping, less pain." - Danny from Health-Hats.com
Course Curriculum
Yoga for Chronic Pain and Fatigue Challenge
Available in days
days after you enroll
Day One
Available in days
days after you enroll
Day two
Available in days
days after you enroll
Your Instructor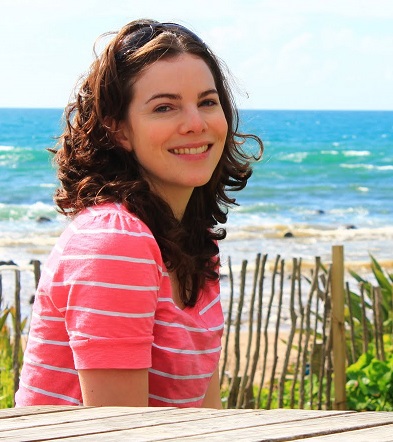 Melissa Reynolds is a mama of four beautiful boys. She is also a blogging, YouTubing, accessible yoga creating, chronic illness thriver.
For nearly a decade she has shared her journey to better wellness despite chronic pain, fatigue and insomnia on the blog www.melissavsfibromyalgia.com. In addition to over 300 blog posts and 200 YouTube videos, she has written two books, a workbook and several courses.
It is her mission to share yoga, pain and fatigue management tools with those who need it, so they don't have to spend as long as she did alone with no help.
Frequently Asked Questions
When does the course start and finish?
The course starts now and never ends! It is a completely self-paced online course - you decide when you start and when you finish.
How long do I have access to the course?
How does lifetime access sound? After enrolling, you have unlimited access to this course for as long as you like - across any and all devices you own.
Do I need to check with my physical therapist/doctor?
Yes! You need to be cleared for exercise. It is also a good idea to run the idea of doing yoga by your medical professional. There is low risk of injury if you are moving mindfully and these poses are very gentle - but you do want to keep your medical team apprised of what you are doing.
What does mindful movement mean?
It means continually checking in with yourself and being aware of how you are moving and how it is impacting you. You are in charge of your body. Does something feel too strong? Pull it back. Does something feel great? Feel free to hold it a little longer. Cultivating awareness of movement is really beneficial for us.
Who is this challenge for?
Chronic pain and fatigue fighters - or anyone who would like to talk foundational poses and accessible yoga. We can't all be super bendy and do 90 minute classes!
How does it work?
Simply enroll now and you will immediately have access to your dashboard where you will be able to access the challenge. Do please share your progress in the comments section of each lesson. Do please commit to practicing!
I am pregnant with fibromyalgia, can I do this?
Yes! If you are cleared for exercise by your medical team and you are able to listen to your body, you can do yoga. If a pose needs to be modified, I tell you this in the class. There is just one pose in this course that pregnant yogis cannot do (it is the second bonus class, so not part of the core curriculum). If you have questions you can ask me.